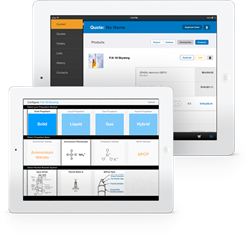 The client we built the first version for has seen their sales increase several fold at events where they use this tool.
Portland, Or (PRWEB) March 24, 2014
There's too much printed literature in sales and marketing, and it is hard to accurately price complex products in real time. Bullseye is an iOS app and web application that solves these challenges with ease, and finally funnels all of your customer information through one place.
Sales literature is expensive to print and ship, and it can't easily be changed. Consequently more than 20% of all marketing materials are simply thrown away. While print-on-demand tries to reduce this waste, the higher cost simply moves that waste from the trash can to your marketing budget. More importantly, does that tri-fold even get read, or does it sit at the bottom of a pile on your prospect's desk with your competitor's brochures? There's no way to track if a printed piece of marketing literature is successful.
Bullseye changes all of that by putting marketing materials in your iPad. Download all product information from the cloud, and then Bullseye can instantly deliver everything from the product catalog in the field, with no internet connection. Presentations, PDFs, Office Documents, Videos, Pictures are always available, and there's even a specifications table builder and 360° product rotations. Assets can be organized into lists mixed with personal documents and then emailed to a prospect. Bullseye tracks if the prospect has actually followed links and downloaded documents, providing new insight into their real interests.
Where Bullseye revolutionizes the sales process is configured pricing. For products and services where there's more than a simple choice of size or color, getting accurate prices is often a process that takes weeks of back and forth with many people and archaic spreadsheets. Most systems that do model complex pricing are built from the engineer's perspective and attempt to map every possible permutation of a product from the bottom up. This is important for the manufacturing process, but it is not how a salesperson thinks.
Bullseye takes a unique approach to solving highly complex product pricing by following a sales person's experience. A series of questions and answers is created in an easy tree interface which leads to common configurations of products. These trees can have many branches and options, but the final experience is a series of simple choices that anyone can understand at a glance. Configuration of a complex product becomes a simple conversation between your salesperson and your customer. Configured products can be added to quotes which become orders through a management controlled workflow.
"Often these tools get in a sales person's way by trying to rethink the way they work. Bullseye was designed from the bottom up with the person closing deals in mind." says Franz Maruna, CEO of PortlandLabs the software company behind Bullseye. "The client we built the first version for has seen their sales increase several fold at events where they use this tool. We're very excited to be bringing it to the general public."
Bullseye is currently in alpha and is demoable by request. With one large enterprise install in place, PortlandLabs plans to launch a self service cloud version in april and is soliciting interest from organizations looking for custom mobile sales application needs today.
About PortlandLabs
Founded in 2001 as a privately held s-corp, PortlandLabs is a small group creative professionals who challenge preconceived notions of how things must be done. A mix of client driven and internal projects fill our days with interesting questions. Often we use technology to drive a unique solution, but really we're just looking to do cool stuff in new ways.