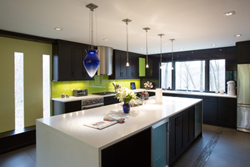 It sometimes takes a brave homeowner to achieve an award winning design.
Silver Spring, MD (PRWEB) March 25, 2014
This recently designed Kosher kitchen by Ellyn Gutridge of Signature Kitchens Additions & Baths, features beautiful contemporary lines and artistic details. The homeowners, Deborah & Dov Zakheim are thrilled with the outcome and love entertaining in their new spacious yet cozy kitchen.
Deborah & Dov Zakheim
Dov Zakheim is a former Pentagon official who worked in both the George W. Bush and Ronald Reagan Administrations. In 2011, Republican presidential candidate Mitt Romney named Zakheim as a member of his advisory team on foreign and defense policy.
What made this a Kosher kitchen?
A Kosher kitchen is required to separate dairy "chalay" and meat "basar" in storage, preparation surfaces, serving dishes & utensils as well as the way those separate serving items are cleaned. Ellyn Gutridge a kitchen designer with Signature Kitchens Additions & Baths along with the homeowner Deborah Zakheim, a successful textile designer designed this contemporary kitchen with separate dishwashers, separate sinks and separate ovens for dairy and meat. Of course there is also ample separate storage for utensils, cutlery and preparation products such as skillets. Interpreting kosher law and how stringently you want to adhere to it is a personal decision. The best definition may be one that is arrived at individually with that homeowner's Rabbi.
Dura Supreme Cabinets
The cabinetry used in this project, is the custom kitchen cabinetry line voted by Houzz users to be the best designer line in 2013; Dura Supreme Cabinetry specifically their Alectra line. Ellyn & Deborah selected a Craftsman Panel Plus door in Cherry with a custom color whose base was Onyx. The back splash was full sheets of colored glass.
Kosher Kitchen Appliances
Like Ellyn's design for the Zakheims, a Kosher kitchen design ought to include appliances that can be set to "Sabbath Mode" for use during Sabbath and Yom Tov. This feature patented in 1998 by Whirlpool is essentially a Sabbath compliant timer. It allows you to prepare a meal before Sabbath, set it in the oven, set the timer and the oven will then begin cooking at the proper time without your having to touch the oven.
About Signature Kitchens Additions & Baths:
Signature Kitchens Additions & Baths is a design build remodeling contractor in Rockville, MD 20850 serving homeowners in Montgomery, Howard & Anne Arundel County MD, Washington DC and Fairfax, Arlington & Alexandria VA. The company has four experienced designer, and twelve craftsmen ready to provide the best design and craftsmanship possible for each homeowners taste & budget. The company offers a 4,000 square foot show room for design inspiration & understanding. They represent and have on display cabinetry from Dura Supreme Cabinetry, Medallion Cabinetry and Jay Rambo cabinetry.