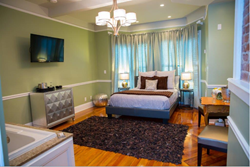 The Hopkins Cottage is a Man Appprvoed bed and breakfast suite.
St. Augustine, FL (PRWEB) March 25, 2014
The Bayfront Marin House, a waterfront bed and breakfast in St. Augustine, Florida, recently completed renovations on one of their luxurious private guestrooms.
The Hopkins Cottage, a first floor suite, offers guests the best of both worlds: heritage accents like hardwood floors, bay windows and exposed brick, combined with the comfort of a multi-head jetted shower and deep soaking tub.
"The new room is what we like to call 'Man Approved'," says Sandy Wieber, owner of the St. Augustine landmark. "There are no doilies or knickknacks--just a sleek and modern room with all the modern luxuries."
Those luxuries include a deep jetted tub, perfect for relaxing after a long day of walking the brick-lined streets in Florida's oldest city. It also includes a roomy tiled shower, with multiple showerheads and body jets.
"We know that people have a wide variety of needs when they travel," says Wieber. "We've accommodated that with very fast wifi, and flat screen televisions in all of our suites. In this room, we've put all of the lights on dimmer switches, so that it can be turned up if the guest needs to do some work on their ipad, or down if they want a romantic evening in."
The guestroom offers a small seating area for guests who need to do work while they're traveling.
The Hopkins Cottage is located in the Victorian section of the Bayfront Marin, and was built in the 1880's. Original wood floors--restored during the renovation--and exposed brick speak to the home's historic origins.
Travelers to St. Augustine can book the room by calling (904)824-4301 or by going online to http://www.bayfrontmarinhouse.com.
Information about the Bayfront Marin House
The Bayfront Marin House in Saint Augustine, Florida is a 15-room, luxury bed and breakfast inn. Located on the Matanzas Bay, the bed and breakfast offers stunning views of the water, hot southern breakfasts each day, along with the highest levels of personalized customer service. Reservations can be made at 904.824.4301, or at bayfrontmarinhouse.com.