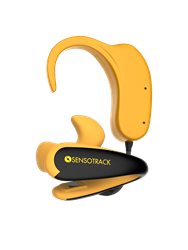 It is like training under the eye of a watchful physician.
Biel, Switzerland (PRWEB UK) 28 March 2014
The Swiss wearable technology company Sensogram Technologies AG will offer team monitoring and analysis capabilities as a part of its upcoming SensoTRACK™ PRO package. The new system, intended for serious athletes and their coaches, is capable of tracking and displaying data from several SensoTRACK™ vital sign monitoring devices simultaneously.
It is intended to provide coaches and athletes with a full range of tools to monitor several performance parameters during practice or a competitive race.
SensoTRACK™ PRO is able to track a variety of sports like running, cycling, skiing, or skating. The vital signs of several athletes can be monitored simultaneously for comparison and analysis.
The system enables serious athletes and teams not just to monitor their current efforts but also to optimize and make improvements based on these efforts.
"It is like training under the eye of a watchful physician. This gives me the confidence to train hard without taking the chance of overdoing it," said Hrach Gevrikyan, a former professional cyclist and a world-class racer. "After getting back to the base I could discuss an objective analysis of my training with the coach, who was watching me on the SensoTRACK-Coach-Station on his iPad," he added.
"Riding in the car behind the cycling team and literally watching the vital signs of the entire team on a tablet computer, is a dream for every coach," emphasizes Patrick Roth of Sensogram Technologies AG. The monitoring tool shows the athletes' vitals, speed, pace, location and other specific cycling parameters.
SensoTRACK™ PRO will be provided to beta customers later this year, following the market release of SensoTRACK™, the individual wellness and activity tracker.
About Sensogram Technologies AG
Sensogram Technologies AG is a Swiss company specializing in designing, producing and marketing innovative biosensors implemented in the form of small portable devices. It is headquartered in the canton of Bern and operates internationally. For more information, visit http://www.sensotrack.ch.
Contact
For questions or further inquiries, please contact Ms. Karin Roth at Karin(at)Sensogram(dot)com
Phone: +41796167095