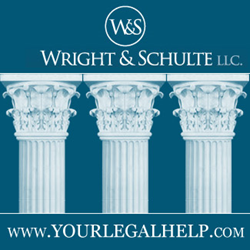 Wright & Schulte LLC of Ohio, an experienced personal injury law firm is always here to help victims of negligence . Call today for a free consultation 513-381-4878 or visit www.yourlegalhelp.com
Columbus, Ohio (PRWEB) March 23, 2014
Wright & Schulte LLC, an experienced Ohio personal injury law firm, is pleased to announce that an Ohio Common Pleas Court Judge has allowed certain state and federal claims filed against the Montgomery County to stand in a lawsuit involving the misidentification of remains belonging to two men who perished in a Union County plane crash in March 2010. The Plaintiff, an Indiana woman whose husband's body was mistakenly cremated following the misidentification, is being represented by Wright & Schulte LLC. Among other things, her misidentification lawsuit alleges that gross negligence, wonton behavior and recklessness on the part of the Montgomery County Coroner, Robert W. Shott, led to the misidentification. (Case No. 2013 CV 04189)
According to the original complaint, the Plaintiff's husband was a passenger in a two-seater plane on March 5, 2010, when the aircraft crashed in Union County, resulting in the death of both her husband and the pilot. The injuries to the two men were so severe, a visual identification was impossible. Both bodies were subsequently taken to Montgomery County for autopsy, which provides autopsy services for Union County. At some point, the men's wallets were mixed-up, resulting in the initial misidentification of their remains. While a forensic dentist did provide a correct identification, the initial mistake was never noticed or corrected, the misidentification lawsuit states.
According to court documents, the Plaintiff did not learn of the mix-up until some months later, when the Montgomery County Coroner's Office mailed her personal effects belonging to the pilot, and she began asking questions. She was formally informed that her husband's remains had been misidentified via a telephone call she received on March 19, 2010, on what would have been the couple's 33rd wedding anniversary. According to the Plaintiff, the debacle has been particularly upsetting to her husband's family, traditional Catholics who do not believe in cremation.
In January 2014, the defense moved for Summary Judgment on certain federal and state law claims, including intentional infliction of emotional distress and gross negligence, wonton behavior and recklessness, which had been filed against Dr. Shott for his role in the incident. But in an Order dated March 21, 2014, Montgomery County Common Pleas Court Judge Mary Wiseman denied the motion, finding among other things, that the Plaintiff had produced sufficient evidence to overcome Dr. Shott's claim of entitlement to statutory immunity in regards to the state law claims pending against him. Judge Wiseman also ruled that Dr. Shott was not entitled to qualified immunity under federal law, and allowed the Plaintiff's federal due process claim to stand.
About Wright & Schulte LLC
Wright & Schulte LLC, a leading personal injury firm, is dedicated to the belief that America's legal system should work for the people. Every day, the attorneys of Wright Schulte LLC stand up for the rights of people who have been injured or wronged, and fight tirelessly to ensure that even the world's most powerful corporations take responsibility for their actions. If you're looking for a law firm that will guarantee the aggressive and personal representation you deserve, please do not hesitate to contact Wright & Schulte LLC today at http://www.yourohiolegalhelp.com or by calling 1-800-399-0795.
Contact:
Wright & Schulte LLC
812 East National Road
Vandalia, Ohio 45377
1-800-399-0795
http://www.yourlegalhelp.com
http://www.facebook.com
http://www.twitter.com