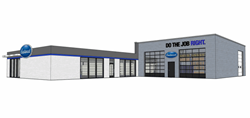 Pottstown, PA (PRWEB) March 24, 2014
The Eastwood Company is redefining retail and taking DIY to new levels for customers shopping its new store in Alsip, IL. Eastwood has transitioned from a conventional catalog company into the premier online source for automotive tools and supplies, and on April 3rd, it will open a store that puts a twist on traditional retail with an experiential format unlike any other in the automotive space. Visitors to the store will encounter a truly unique experience.
In a market where products are typically hanging on shelves, Eastwood's retail experience brings the garage-environment directly to shoppers. The experience educates customers with hands on workshops, how-to videos, interactive product displays, media lounge and the opportunity to try products before making a purchase.
"A visit to the store is literally that of a toy store for car guys," stated Nick Capinski, Sr Content Marketing Manager at Eastwood. "If you've ever wanted to learn how to use an English wheel or maybe a TIG welder, we're hosting classes that share the information needed to succeed with the tool, plus allowing students to get hands on usage. Visitors can even bring in their project for expert advice."
The store, which is located in Alsip, IL, at 12100 S. Cicero Avenue, positions Eastwood to become a community hub for car shows and other events. It is open daily from 8:00 a.m. – 7:00 p.m., Monday – Saturday, and 9:00 a.m. – 5:00 p.m. on Sunday. "After reviewing local market data, we determined Chicago would be a great location to open this truly unique retail experience," said Brian Huck, Eastwood's VP, Marketing & Sales. "Chicago's strong density of automotive enthusiasts and central location were key factors in our decision to open in Alsip."
To kick off the experience, there will be a grand opening celebration April 25th through May 4th. During the celebration, there will be freebies for all that attend, instructional classes and product demonstrations, contests, a tent sale and much more.
Founded in hobbyist Curt Strohacker's home garage in 1978, Eastwood has prided itself, since day one, on offering the right products and knowledge to allow DIY hobbyists to achieve great results. The company's tagline "Do the Job Right", is a message that Eastwood drives home through its catalog, website and retail experience. Eastwood markets unique tools and supplies for repair, restoration, and modification of cars, trucks and motorcycles, as well as for home and garage DIYers. Eastwood constantly innovates and develops new products to serve the home automotive hobbyist, as well as individuals and organizations focused on the restoration and preservation of automobiles and motorcycles. For more information, to set up an interview, or for hi-res photos, please contact Nick Capinski at ncapinski(at)eastwood(dot)com or (610) 705-5404.