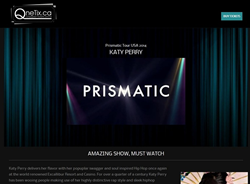 (PRWEB) March 25, 2014
A new website will shortly be launched which will allow fans the chance to purchase tickets for a vast range of sporting, musical and theatrical events at the lowest possible prices. http://www.qnetix.ca
The Qnetix.ca website will feature bespoke software that allows users to search in a number of ways for tickets for a vast range of concerts, theatrical presentations, opera, ballet and sporting events both in North American and also in other parts of the world.
Users are free to search the site via a number of different means. Users can follow where their favourite musician is touring so they can buy tickets at the venue nearest to them, or they can search a particular venue for a list of shows that are being held at the venue and for which Qnetix.ca currently has tickets available.
It is the sheer range of tickets available on Qnetix.ca that will appeal to fans. For 2014 alone, the site will offer a vast number of tickets for some of the most exciting musical concerts featuring artists like Linkin Park, Bruce Springsteen, Katy Perry, Motley Crue, Bruno Mars, Queen, One Direction, Billy Joel, Jimmy Buffet and many more. http://www.qnetix.ca/topartist
However, it is not just musical concerts that Qnetix.ca will offer its users, with an outstanding range of theatre tickets available for shows like the Lion King, the Phantom of the Opera, Wicked, Matilda, Kinky Boots, Jersey Boys and many more.
Lastly, sports enthusiasts will have a vast range of options available including tickets, when available for games in the MLB, NBA, NFL, NHL, MLS, as well as College Bowl Games, Professional Tennis and Golf events, NASCAR and many, many more.
A spokesman for Qnetix.ca stated: "Over the years, we've been astonished at how many fans are being taken advantage of when they seek to book tickets to their favourite shows over the Internet.
"We've seen ridiculously expensive booking fees, tickets sold out in seconds because of touts buying up huge volumes of tickets and then selling them on to fans at vastly inflated prices.
"We designed Qnetix.ca for two simple reasons, firstly to give true fans the chance to buy the tickets to the events they want to see and secondly, so that they can do so at the cheapest price possible using a simple, reliable and secure ordering service. http://www.qnetix.ca/tour
"We've designed the site to be as user-friendly and intuitive as possible to ensure that if a fan wants to buy a ticket, they can buy it at Qnetix.ca, safe in the knowledge that they are getting the lowest price possible."
With tickets readily available for a host of top shows across Canada, the United States and beyond readily available from launch day, Qnetix bosses are confident that their fledgling website will be a big success with fans of all ages and tastes.
About the Company
Qnetix.ca is a website that was founded to take advantage of the inside knowledge of its creator about how the online ticket industry works. By utilising years of experience and numerous contacts within the sporting, musical and theatrical industries, Qnetix.ca is able to procure a high number of top quality tickets to many of the most eagerly anticipated sporting, musical and theatrical shows around the world. Through our website, we then sell these tickets on at the lowest possible prices to the people that most want them – The fans. Qnetix.ca offers a number of different ticketing options depending on the show, ranging from general tickets, to VIP tickets and more. http://www.qnetix.ca/tickets