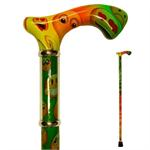 Where Fashion Meets Function!
Orlando, Florida (PRWEB) March 24, 2014
Walking-Canes.Net has received the Spring Collection of walking canes for men and ladies. The new selection comes in a variety of styles and colors for both men and ladies. The new fashion canes for ladies are bright and cheerful and are sure to be a hit while the men's canes are elegant and distinctive. This years the colors are bright floral with rich background accents and new unique patterns never seen before.
The new colors this year are blue floral, red floral, candy apple red, white paper and honeycomb. Take a look at the selection for ladies and see the exciting styles and colors offered. Making a decision can be difficult when there are so many wonderful canes to choose from. Why not buy two?
Walking Canes are not only good for getting around but can also become the accessory of choice! With a wide variety to choose from finding a style and color will make the event imaginable. Many of the new styles are made from lightweight aluminum and offer a strong degree of strength. Aluminum is a great product for walking canes in that it can be decorated in many colors and patterns. Most of the aluminum walking canes can be adjusted so that the end user may select the correct height.
Wooden canes are always a good choice. These wooden canes are offered in ladies and men's styles. These can be cut to correct size and help is a phone call away for helping with the proper measurement. A quick way to get a relative measurement is to take the users height in inches and divide by two. For more accurate measurement take a look at the guide on how to measure. In any count a physical therapist should guide the measuring.
Customer service is always available to help at 1-888-928-1774.