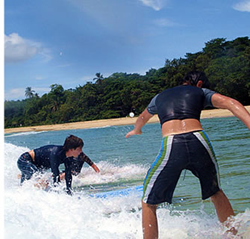 The secret of St. John is the Summer - most people don't realize how pleasant the weather is, and how great the rates are!
(PRWEB) March 24, 2014
While summer heat blazes most of the United States during the brutal hot and humid months of summer, it may surprise you to know that St. John and much of the Caribbean continues to experience the cooling trade winds, making May through August simply delightful.
While the risk of hurricanes rises starting June 1, the weather across the lesser Antilles typically stays in the 80's both day and night. Respected travel source, Foders, tells readers "the constant trade winds help keep [Caribbean] temperatures bearable all year even when the weather is hottest."
With the added bonus of fewer visitors, St. John has much to offer when the kids are out of school. With two-thirds of the island preserved as national park, you'll find more than enough historical ruins, hiking trails and park events to keep you busy every day of the week. May is the month for Wagapalooza, the island's wacky and hilarious dog show. St. John also celebrates Carnival on July 4th with food fairs, children's rides, crafts for sale, fireworks and a parade in Cruz Bay. Visit in August and be treated to the annual Perseid meteor shower.
The accommodations are also significantly less expensive during the summer months, with most luxury villas renting for 30% less than they do in high-season.
About Windspree Vacation Homes
For over 30 years, Windspree Vacation Homes has rented and managed vacation villas in and around Coral Bay, St. John. Coral Bay is a small peaceful hamlet on St. John island's east side and convenient to the Virgin Islands National Park, where many of St. John's best beaches and hiking trails are located.