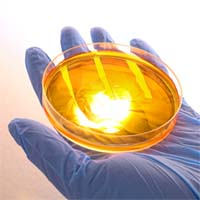 The result was 'much lower cell viability and higher apoptotic cell death'...
Raleigh, NC (PRWEB) March 29, 2014
The Chinese developers of a light-based treatment for bladder cancer say the treatment can be improved with the addition of a second drug. Click here to read the findings, which have just been posted on the Cancer Monthly website.
Doctors in the Department of Urology at Fudan University in Shanghai have concluded that the chlorophyll-based drug chlorophyllin e4 kills more bladder cancer cells when it is given along with an autophagy inhibitor.
Autophagy is a cellular process that lets bladder cancer cells protect themselves by breaking down certain dysfunctional components. Chlorophyllin e4 tends to concentrate in the lysosomes and mitochondria of cells. When bladder cancer cells were prevented from breaking down these components, the result was "much lower cell viability and higher apoptotic cell death", according to lead study author, Dr. Lihuan Du.
The new study builds on 2012 research by the same group that found bladder cancer cells treated with chlorophyllin e4 and a laser light died at a rate of at least 82%. The new study, adding the autophagy inhibitor, was published in the Journal of Photochemistry and Photobiology.
"Light-based treatments have the potential to attack certain cancers with fewer side effects," says Alex Strauss, Managing Editor for Cancer Monthly. "News of a compound that could make the treatment even more effective for bladder cancer is potentially very exciting."
To learn more about this study and the effects of light-sensitizing chlorophyllin e4 on bladder cancer, read Chlorophyllin-based Drug Enhances Bladder Cancer Treatment available now on the Cancer Monthly Website.
Du, L et al, "Autophagy inhibition sensitizes bladder cancer cells to the photodynamic effects of the novel photosensitizer chlorophyllin e4", February 27, 2014, Journal of Photochemistry and Photobiology, Epub ahead of print, http://www.ncbi.nlm.nih.gov/pubmed/24650577.
For over ten years, Cancer Monthly has been the only centralized source of cancer treatment results. Patients can see the actual survival rate, quality-of-life indicators, and other key data for approximately 1,500 different cancer treatments. Cancer Monthly provides timely and ground-breaking news on the causes, diagnoses and treatments of the most common cancers including Bladder, Brain, Breast, Colon, Kidney (Renal), Liver, Lung (NSCLC), Ovarian, Prostate and Rectal Cancers, Melanoma, Mesothelioma, and Non-Hodgkin's Lymphoma. Written for patients and their loved ones, Cancer Monthly helps families make more informed treatment decisions.