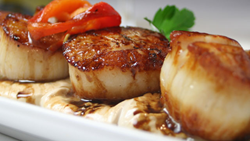 (PRWEB) March 24, 2014
In preparation for one of GetMaineLobster.com's favorite high holidays, GML has gathered some customer favorites and is now offering an inspired selection of lobster and seafood for Easter– at prices that can't be beat. This elegant, versatile selection has something to please everyone.
1. Exclusive Easter Special
One of the many great things about Maine Lobster Tails is that they are so easy to prepare and serve and they please the most finicky dinner guests. Grilled, baked, or broiled, and brimming with the deep, densely rich flavor-fantasy that all serious foodies seek, they epitomize the special treat on the Easter table.
The Exclusive Easter Special includes twenty four 3-4 ounce Maine lobster tails and two quarts of Maine Clam Chowder, all for $173.23—a $98 savings. Caught, immediately flash-frozen and shipped directly, frozen, by two-day air, arriving only on Wednesday, Thursday, Friday, and Saturday.
2. Buy One Lobster Bake, Get One Free
The Black Point Maine Lobster Bake is the easiest way to enjoy all that Maine seafood has to offer, and it includes free shipping. Simply place in the oven or on the grill and voila: a Maine seafood delight ready to eat in less than an hour. This is the perfect appetizer for your Easter table, or a light seafood meal for four people!
Hand-selected tasty seafood morsels include 4 Maine lobster tails (3-4 ounces each), 16 ounces of clams, 8 Atlantic crab claws, 8 shrimp, 4 of Maine's finest corn on-the-cob.
3. Fresh Maine Diver Scallops – to ensure freshness, this special offer ships for Friday arrival only.
Experience the exquisite flavor of Fresh Maine "Diver" Scallops, starting at 4 pounds for $109. GML braves the salty surf of Casco Bay, Maine to pull the tastiest Maine "Diver" Scallops of the year. The bake arrives in an easy-cook baking sleeve, and cooking directions are included.
4. Fresh Yellow Fin Tuna
Skip the ham this year and imagine thick, succulent North Atlantic Ahi Tuna Steaks, beginning at four pounds for $99.
Looking to custom build your Easter Sunday feast? Just call GML at (866) 562-4817.
GetMaineLobster.com Standards
Our live Maine lobsters are caught by Maine lobsterwo/men dedicated to preserving the sustainability of the Maine lobster industry and engaging in practices that ensure its health. They are hand-selected with care and humanely by experienced lobster-handling experts and packaged with sustainable, environmentally friendly materials.
About GetMaineLobster.com:
GetMaineLobster.com, a division of Black Point Seafood and Black Point Gourmet, hand-selects the finest Maine lobster, seafood and beef products for convenient distribution throughout the United States. Their passion is to make fresh, quality seafood readily available to customers across the country, which is why they buy from only the most trusted, well-established suppliers to ensure that they receive the finest products available.
GetMaineLobster.com was selected out of the more than four million small American businesses served by Chase bank to represent its new Platinum Business Checking product for its 2013 national advertising campaign.