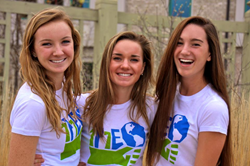 One of 1p1e's goals is to build a community of people who strive to spread global positivity through their words and actions.
Minneapolis, MN (PRWEB) March 25, 2014
The team at 1People1Earth believes that small acts of kindness and generosity can make a huge difference in the world. In addition to selling t-shirts and other merchandise to raise money for charity, 1P1E will be promoting this idea by encouraging socially conscious volunteers and activists to share their stories. The goal is to build an online community of people who strive to spread global positivity through their words and actions.
Those interested in joining the 1P1E movement can follow the company's blog at 1p1e.tumblr.com. Here, users will find written content and images that promote the company's mission of inspiring good. Followers and fans will be able to submit their own stories and network with others. Links to blog content will be posted to the company's Facebook and Twitter pages as well as to its website. Users will also have the option of signing up to receive an e-mail newsletter with the latest news and updates.
This development comes in tandem with the addition of a marketing and social media intern to 1P1E's dedicated team. Elise Guenther, a junior at the University of St. Thomas in St. Paul, Minn., will be contributing to building the 1P1E community. Elise is a Communication and Journalism major and a member of the swimming and diving team at St. Thomas. She looks forward to bringing the communication skills she's gained in the classroom to 1P1E.
The founders of 1People1Earth are Minnesota sisters Meaghan, Katie and Libby. They were inspired by reading Blake Mycoskie's book, "Start Something That Matters." As the founder and CEO of TOMS Shoes, Mycoskie created a for-profit business that was sustainable and not reliant on donations. The sisters took his ideas into account and decided to use their passion for doing good, their desire to make a difference and their love for fashion to launch a for-profit company that donates profit to charity. After plenty of research and many late night talks (usually involving loud music and chips with guacamole), 1P1E was born.
"The purpose is simple, cause positive action and offer people value for doing this," the girls explain on their website, 1p1e.com.
1P1E will donate 10% of its funds directly to the four charity organizations the founders have selected. These organizations share their vision for positive action by promoting world peace and helping individuals, communities and nations enjoy a safer world.
More information about the company, as well as links to its social media pages, can be found at 1p1e.com.