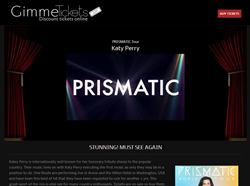 (PRWEB) March 25, 2014
Every year across the world there are thousands of exciting music concerts, theatre productions or sporting encounters that fans are desperate to attend. Unfortunately, exorbitant ticket pricing combined with huge demand often means that some of the most dedicated fans in the country, miss out on the chance of seeing their heroes in action. http://www.gimmetickets.com
GimmeTickets.com is a brand new website that has been set up to help redress that imbalance and give fans a greater chance of seeing their favourite music star, theatre show or sporting event, at the lowest price possible.
The website will offer a vast range of tickets for a whole host of events, ensuring that for any single event, fans should be able to select from a wide number of packages available, ranging from the cheapest seats available, right up to VIP seats, some of which may even include additional extras such as meals or a chance to meet the stars of the show! http://www.gimmetickets.com/VIP
The new site will focus on the major musical, theatrical and sporting events that occur in the United States and across the world throughout the year and will endeavour to bring tickets to these events to its users at the lowest possible prices.
Just some of the big events that will feature on the Gimmetickets.com site include:

Major League Baseball Games and Spring Training Games
NFL Games including pre season, post season, the Pro Bowl and the Super Bowl.
NBA Games including tickets to the NBA Draft, Conference Finals, NBA Finals and more.
Golf Tickets including tickets for The Masters
Soccer Tickets including tickets for the English Premier League games as well as prestige friendlies in the US for the 2014-2015 pre season.
Top Music Concert Tickets including One Direction, Katy Perry, Lorde, Miley Cyrus, Elton John, Billy Joel, Kings of Leon, Cher, Demi Lovato and Coldplay.
Top Theatre Tickets including Marvel Universe Live, Broadway Shows, Las Vegas Shows, Cirque du Soleil and more.
Tickets for Top Opera and Ballet shows including La Boheme, Cosi Fan Tutte, Aida, the Bolshoi Ballet performing Giselle, Swan Lake, A Midsummer Night's Dream and The Nutcracker.
One of the most appealing aspects of the site is the ability to search for tickets via a number of means, ensuring users can find out which top performers will be appearing in their locality, as well as finding out details of where they can see their heroes further afield. http://www.gimmetickets.com/discounted
A spokesperson for GimmeTickets.com stated:
"Our aim with Gimmetickets.com is to give fans the chance to see their heroes, either here in the US or as part of a package abroad.
"We want to give people a chance to see their favourite teams, pop stars and theatrical shows at a price they can afford.
"We're confident GimmeTickets.com can deliver on that aim."
Gimmetickets.com is expected to go live very shortly with tickets to some top shows available from day one.
About the Company
GimmeTickets.com has been set up by the proprietor to answer the demand for cheap tickets to some of the United States most popular musical, theatrical and sporting events. From its base in Las Vegas, our extensive network of contacts from within the world of sport, music and theatre can locate tickets for America's hottest shows and bring them to the user via the brand new GimmeTickets website at the lowest possible prices. GimmeTickets will include tickets for popular music tours, theatre shows as well as a range of top sporting events, including NFL, NBA and MLB match ups.