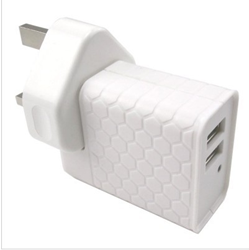 (PRWEB) March 24, 2014
Hiconn Electronics is a well-known China electronics accessory wholesaler that provides thousands of useful products. Lately, the company has released its new 2-Ports AC USB Power Adapter collection. What's more, it is now offering great discounts on all these high end adapters at its website, up to 28% off. The special offer will come to an end on April 15, 2014.
"We are proud to launch the current promotion and make our 2-Ports AC USB Power Adapters more affordable. By launching the big sale, we intend to expand the international market. Our company has much experience in the electronics field, and I am sure that customers will get a wonderful shopping experience at our online store," the marketing specialist of the company says.
Some detailed information about the company's 2-Ports AC USB Power Adapters is as follows:
•Input: 110-220V 50Hz
•Output: 5V/3A/15W
•Color: White & Black
•Smart, compact, light weight, and convenient for traveling
•Simply plug it into an electrical outlet and charge using the USB cable (not included)
•Intelligent IC chip inside recognizes a fully charged battery and automatically switches to a saver mode to prevent overcharging and short circuit
•LED indicator
According to the marketing specialist, Hiconn Electronics is developing very fast these years. At the company's frequently updated website, clients can find a huge selection of high quality items that offered at reasonable rates.
About Hiconn Electronics
Hiconn Electronics (Shenzhen Hiconn Electronics Co. Ltd.) is devoted to designing and manufacturing a wide range of connection cables and customized cable assemblies, offering many HDMI cables, VGA cables, SATA cables, USB cables, 1394 cables, DVI cables, SCSI (Small Computer System Interface) and more. For more information, please visit http://www.hiconn.net/.
Contact Person: James Yin (Sales Director)
Company Name: Shenzhen Hiconn Electronics Co., Ltd.
Address: Shenghua Building., Xixiang Road., Baoan District, Shenzhen, Guangdong Province, China
Zip Code: 518102
Tel: +86-755-8109 8345
Fax:+86-755-2779 3497