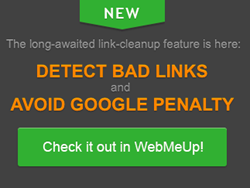 San Francisco, CA (PRWEB) March 24, 2014
Following numerous requests from users, WebMeUp added the bad links detection functionality to its backlink checker module. The initial tests have shown good results in sorting links using an algo similar to Google's and detecting the links that can cause a penalty for being spammy.
WebMeUp developers are reporting on 4 categories of backlinks (Dangerous, Suspicious, Neutral, Trusted) grading all of them by the risk of link spam penalty ( 0 to 100%) and letting SEOs use this report to disavow spammy links in Google.
*Why it is important*
With the threat of negative SEO becoming real for every website owner, and Google's link spam policy not becoming milder, more webmasters, SEOs and site owners are concerned with early detection of risky backlinks that may cause penalty.
*How it works*
WebMeUp's new solution helps in avoiding a link spam penalty, or recovering from an existing penalty with the new bad links detection feature, showing risky links and helping users clean up their link profiles.
The working cycle is simple and quick: the user opens the "Link penalty risks" tab in WebMeUp to see the dangerous links, exports them to CSV and copies to a disavow file which can then be submitted to Google's disavow tool.
The feature is available to all free and paid users of WebMeUp all-in one app. As for WebMeUp's free external backlink checker, the company has plans to add similar functionality to it later.
For more information on the solution please visit http://webmeup.com/link-cleanup.html.
Free 15 day trial of WebMeUp (including Multiple Users feature) is available at http://webmeup.com.
Feeling social? Connect to developers on Twitter @WebMeUpSEO, Facebook fb.me/WebMeUpSEO or Google Plus gplus.to/WebMeUp.
*About WebMeUp*
WebMeUp is a tech company that offers a variety of services and tools, including WebMeUp SEO software, WebMeUp backlink index, free WebMeUp backlink tool, WebMeUp SEO API, catering for both businesses and individual users. The company's mission is to provide most accurate data for smart web optimization. More information about WebMeUp is available at the official website webmeup.com.