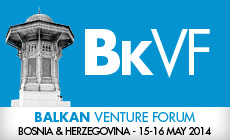 Brussels, Belgium (PRWEB UK) 27 March 2014
The Balkan Venture Forum (BkVF) will take place on May 15 & 16 in Bosnia and Herzegovina. Each presenting entrepreneur will have 5 minutes to convince the Expert Jury about his/her technology, scalability and business potential. Thirty active International Venture Capital investors and Business Angels will be reviewing these presenters who are active in the field of ICT, CleanTech and Life Sciences. The event is strongly focused on providing funding and match-making opportunities.
Confirmed international investors participating at the Balkan Venture Forum include Earlybird Venture Capital, the European Investment Fund, ERA Kapital, DFJ Esprit, RSG Capital and many more.
Programme
The highlights of the two-day forum are:

5 Investment Pitch Sessions showcasing the best technologies from the Balkans
3 plenary discussion sessions lead by thought leaders and active investors
Pre-arranged and personalized one-to-one meetings between investors & entrepreneurs
Marathon networking and establishing vital relationships during the lunch and coffee breaks
Getting Ready
Prior to the Forum itself, on 14 May, interested companies will have the opportunity to prepare for their pitches and meetings with investors at the half-day Venture Academy. Experienced coaches will be mentoring the companies by working pragmatically with the entrepreneurs in honing their selling proposition, fine-tuning their business model and optimising their pitch delivery.
European Venture Contest
The Balkan Venture Forum is a regional semi-final of the European Venture Contest (http://www.e-unlimited.com/EVC). This means that BkVF Award Winners (top 25% best rated companies) get the opportunity to continue along the European Venture Contest, a pan-European contest of venture events that gathers the best of each edition to join the European Venture Summit (http://www.e-unlimited/EVS), Europe's largest venture capital match-making event, taking place in December 2014.
Interested to sign-up?
Go to: http://www.vibeproject.eu/BkVF for direct registration, participation is free-of-charge.
Registration deadline for entrepreneurs: 20 April, 2014.
For more information contact:
Jitske van Os
Europe Unlimited
+32 (0)2 644 65 92
jitske(at)e-unlimited(dot)com
http://www.e-unlimited.com
The Balkan Venture Forum is one of the main objectives of the SEE Programme project VIBE (Venture Initiative in Balkan Europe) and is being co-financed by European Union. VIBE is a regional eco-system accelerator that takes on the challenge of developing the innovation and entrepreneurship system in the SEE. It does this through high-impact actions that enable a key financing process for innovation and entrepreneurship, which is crucial to the development of a knowledge-based economy in the SEE region.
Organizers
Venture Initiative in the Balkan Europe (VIBE), European Union, Southeast Europe, Europe Unlimited, Balkan Unlimited and Trento RISE.
Partners
USAID, Business Innovation Zoo (BIZOO), Crimson Capital, Croation Business Angels Network, Republic Agency for the Development of Small and Medium Enterprises, Business Innovation Croatian Agency, South-East European Research Centre, Mid-Pannon Regional Development Company, Agency for Promotion of Entrepreneurship of the Republic of Macedonia, Executive Agency for Higher Education, Research, Development and Innovation Funding, Slovenian Public Agency for Entrepreneurship, Innovation, Development, Investment and Tourism, Innovation Fund, Innovation Centre Banja Luka, University of Belgrade - Faculty of Organizational Sciences, Chamber of Commerce and Industry of Tirana, Institute for Entrepreneurship Research, The Atlantic Club of Bulgaria, Croatian Private Equity and Venture Capital Association, Institute for Strategic Studies and Prognoses, Belgrade Chamber of Commerce, Ministry of the Economic Development and Technology and Croatian Ministry of Economy, Labour and Entrepreneurship.
Note to Editors: Europe Unlimited would be delighted for editorial attendance at the Balkan Venture Forum – Press are welcome free of charge.