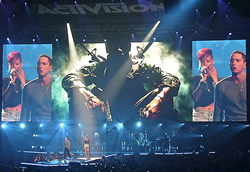 Detroit, MI (PRWEB) March 24, 2014
Ticket Down announces that they have cut prices on all presale tickets for Eminem and Rihanna in Detroit, Michigan at Comerica Park. This trusted secondary ticket exchange is also offering promo/coupon code EMINEM-RIHANNA-2014 for additional checkout savings.
Last month, Eminem and Rihanna announced that they would play the "Monster Tour" in Los Angeles, California; East Rutherford, New Jersey; and Detroit, Michigan. The latter is the hometown of the "Rap God," and with the recent announcement, instead of just a single show in each of these cities, there will be two shows for fans to enjoy. For fans in Detroit looking to catch their local favorite and the gorgeous Barbados native perform, shows will be held on August 22nd and August 23rd, 2014.
Comerica Park is the home of the Detroit Tigers from Major League Baseball. The venue opened in 2000 where the Detroit College of Law once stood. No other professional sports team plays at the venue, but it has been home to other special event attractions over the years. With a price tag of more than $300 million to construct, the operator of the venue has found acts like Paul McCartney, The Rolling Stones, Bruce Springsteen, Bon Jovi, Jimmy Buffet and another local act, Kid Rock, to play there. In 2005, Eminem played his first show in front of the Comerica fans.
Eminem became a household name across the world with his debut single off The Slim Shady LP, "My Name Is." This song, along with its music video that played during the heyday of MTV and Total Request Live, helped make Eminem a star. The rapper would go onto release several other singles that fans instantly got behind, but it wasn't until "The Real Slim Shady" came out in 2000 did sales figures begin to show how big his stock was getting. The song was certified platinum four times by the Recording Industry Association of America.
Fans looking to attend this concert will likely want to hear some of his earlier material, which also include tracks like "Without Me," "Cleanin' Out My Closet," "Lose Yourself," "Sing for the Moment," "Like Toy Soldiers," and "When I'm Gone." Fans will also want to hear some of his newer songs including "Berzerk," "Rap God," "The Monster," with Rihanna, and "Headlights," featuring Nate Ruess.
There aren't only top songs from Eminem that fans will be able to hear at Comerica Park, as Rihanna has released her share of top hits around the world. Among the singles that fans will want to hear the Barbados native perform include "Diamonds," "S&M," "California King Bed," "Only Girl (in the World)," "Rude Boy," "Russian Roulette," "Rehab," and "Take a Bow." These songs have helped Rihanna sell more than 10 million records in the United States and more than 30 million records worldwide. Her singles have also totaled more than 120 million sales. In the age of digital music sales, Rihanna is at the top of the list for the most digital sales around the world, trailing just Lady Gaga for the top spot.
As their past performances together have shown (2011 Grammy Awards), Eminem and Rihanna have great chemistry on stage and are known for putting on a good show when performing alone. Fans attending the concert will be lucky enough to see two headlining performers live in one night in what could be one of the shows of the year.
About TicketDown.com:
Ticket Down delivers tickets to sold out concerts and events worldwide when no one else can, and they do so at discounted prices. As a member of TicketNetworkDirect, they can guarantee the delivery of Eminem and Rihanna tickets at Comerica Park on time. This popular ticket exchange also has a wide variety of cheap tickets for all upcoming sporting events such as NASCAR, NBA, NFL, and NHL.