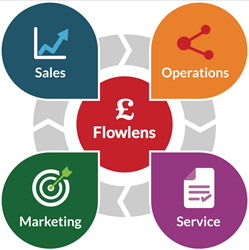 Flowlens is shaping the future of Business Technology
Belfast, UK (PRWEB UK) 26 March 2014
Today Crafty Devil becomes Flowlens!
Crafty Devil has, for a number of years, been a highly regarded online marketing and software development business, based in Belfast. The company has supported a broad range of customer organisations in Northern Ireland and delivered a wide variety of solutions to them. Crafty Devil has also gained a very strong reputation for value-for-money, quality and professional project delivery.
Over the past two years the company recognised a need in the worldwide market that was simply not being met. In any organisation (and particularly in manufacturing and distribution) there are a number of core functions – marketing, sales, manufacturing/logistics and service. There are large numbers of solutions available today in each of these areas – but none that cover them all in a truly integrated way. Thus Flowlens was born – to create a simple, integrated solution that could improve performance and productivity in one, any combination, or all of these operational areas. We describe this integrated approach as addressing the 'Customer Lifecycle'.
Leading Northern Ireland based exporters such as the Survitec Group and CDE Global have already implemented Flowlens and interest has been growing for some time now.
Flowlens takes advantage of the latest software developments. It is cloud based, easily modified to fit exactly into the target organisation and is both easier and less expensive to maintain than traditional offerings.
In recognition of this new focus going forward, Crafty Devil today rebrands to become Flowlens. This change better reflects the business, goals and strategy now being implemented by the company.
Flowlens is now planning to move in to the rest of the UK and Europe as the first stage of a broader rollout to the market.
Summarising the current situation and the way forward, Rich Dale, the CEO of Flowlens, said, "We are excited about the potential for our innovative new solution. We have already seen excellent take up and interest in Northern Ireland. This tighter focus will enable us to increase our expertise in this specific new sector and to lead in that sector going forward – both in the UK and internationally."
Find out more at http://www.flowlens.com