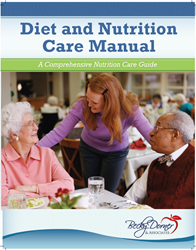 Naples, FL (PRWEB) March 26, 2014
Registered dietitian nutritionists depend on current, evidence based information to assist them translate nutrition into food for their patients. Along with a healthy diet, many people need special therapeutic diets to help prevent or treat diseases such as diabetes or chronic kidney disease. Research has proven that proper nutrition and hydration are key to preventing and treating many diseases and conditions, however, most available resources for healthcare practitioners focus exclusively on the "science" of the problem without providing practical advice. "Diet and Nutrition Care Manual: A Comprehensive Nutrition Care Guide, 2014 Edition" by noted nutrition, aging, and long-term care expert Becky Dorner, RDN, LD, FAND fills this gap.
This manual provides nutrition care solutions for dietitians, dietetic technicians, nurses and doctors to use in daily practice in acute, sub-acute, rehabilitation, and nursing facilities. It presents comprehensive, clinical information about many diseases and conditions, details the evidence-based research that supports nutrition as a preventative or treatment measure, and translates the science into easy to use guidelines, charts and tools.
Chapters and topics include:

Regular Diets, Consistency Alterations, Obesity Management Diets, Sodium Restricted Diets, Diets for Cardiovascular Health, Diabetes, Chronic Kidney Disease, Gastrointestinal Diets, Nutrition Support, Pregnancy/Lactation, Pediatrics.
Specific Diseases and Conditions such as Alzheimer's/dementia, anemia, dehydration, failure to thrive, HIV/AIDS, malnutrition, osteoporosis, palliative care, pressure ulcers, pulmonary disease, sarcopenia, unintended weight loss.
Nutrition screening, nutrition focused physical assessment, anthropometrics, nutrient needs calculations, DRIs, and more.
"The science is constantly changing, and we want practitioners to have current, evidence based information to utilize in daily practice," explains Becky Dorner. "Our job is to review all of the evidence, boil it down into the most essential information, and provide easy to implement guidelines and tools for practitioners, so they can spend their time teaching their patients/clients how to eat for good health."
"Diet and Nutrition Care Manual: A Comprehensive Nutrition Care Guide, 2014 Edition" is available online at http://www.beckydorner.com/products/57. The book is also an accredited continued education self-study program for RDs or RDNs and DTRs, offering 25 hours of continued professional education (CPE) credits.
About the Authors
Author/Editor Becky Dorner, RDN, LD, FAND is widely-known as one of the nation's leading experts on nutrition, aging, and long-term health care. Becky's mission to improve nutrition care for older adults has inspired her to present more than 550 professional programs at national, international and state meetings and publish more than 270 manuals, CEU programs and articles for professional journals and newsletters. She has been an active leader in professional organizations since 1984, including the Board of Directors of the Academy of Nutrition and Dietetics and the National Pressure Ulcer Advisory Panel.
Contributing Author Liz Friedrich, MPH, RD, CSG, LDN has co-authored numerous articles in journals and magazines, including the Journal of the Academy of Nutrition and Dietetics. Liz is Associate Director of Nutrition411.com, and an evidence analyst for the Academy of Nutrition and Dietetics' Evidence Analysis Library. She is a Board Certified as a Specialist in Gerontological Nutrition, and has served as the Academy's Delegate for the Nutrition Entrepreneurs dietetic practice group, and for the North Carolina Dietetic Association (NCDA).