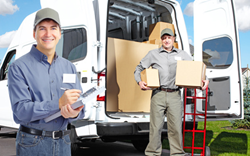 (PRWEB) March 25, 2014
The elite board of directors at MovingQuote.org passed a resolution this week to extend the existing contracts with its high power network of long distance movers. Collectively, this group of movers has provided long distance moving services to millions of customers and has saved users nearly thirty percent in moving costs.
During the first round of voting there was a tie, but during the second round board members unanimously ratified existing contracts and gave the existing network of movers an extension of nearly five years. The multi-million dollar deal is expected to bring in more stability and predictability for the customer base. Cost reductions and outstanding service are bonuses that users will continue to enjoy as a result of the contract extension.
Although the contract runs very long, the agreement purports to accomplish three major goals:
Lower moving costs. All members of the fleet endorsed by MovingQuote.org will be required to provide discounts at a minimum of fifteen percent when compared to other avenues. This term should save individuals and companies valuable resources during the course of a relocation.
24/7 customer service. Any user who requests a moving quote must be serviced within a few hours. Furthermore, most large members of the network will be expected to provide 24/7 customer service and a redundant capacity to ensure all calls are answered quickly and effectively.
No hidden costs. Finally, price gouging and any form of deceptive pricing is strictly prohibited. This term ensures consumers are offered fair pricing, an upfront quote, and zero hidden fees. This is one of the contract's most customer-friendly term.
"Our company is focused on delivering 100% customer satisfaction. Since the past fifteen years, we have helped numerous customers plan and execute their relocation. For this, we have primarily relied on our handpicked network of local and long distance movers. With the board's approval for an extension, we will be able to continue offering world class service at extremely affordable rates," says Yonni Rossa, CEO and co-founder of MovingQuote.org, a site that allows users to compare multiple moving companies, obtain quotes, and negotiate prices.
MovingQuote.org is a customer-centric site that is designed to eliminate the hassles associated with moving. From multiple moving companies to a broad infrastructure that takes care of all aspects of migration from A to B, Rossa's customers are lavished with a host of amenities and outstanding customer service. Due to a large number of companies offering quotes at nearly the same time, consumers benefit in numerous ways. First, the overall cost of moving comes down. Second, there is a factor of reliability built into the site. From user reviews to experiences of previous customers, complete transparency is assured to all users who utilize Rossa's company as a starting point during their research.
If you would like more information about this topic, visit http://www.movingquote.org/long-distance-moving-companies/.