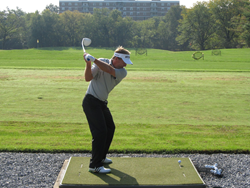 Washington, DC (PRWEB) March 24, 2014
Fred Funk--sponsored by NOXICARE™ , a Truceuticals, LLC ® natural pain reliever--shot a five under par three-round total of 211 to tie for thirteenth place at the Mississippi Gulf Resort Classic.
Funk was tied for first place after Saturday's second round, but ended up shooting a three over par 75 on Sunday. Jeff Maggart went on to win first prize of $240,000 at the $1.7million event after sinking a 50-foot pressure putt on the seventeenth hole. The PGA Champions Tour competition was staged at Fallen Oak in Saucier, MI.
"It's great to hold the lead on any day playing against some of the finest golfers in the game," said Funk.
Billy Andrade, Bernard Langer and Fred Couples were all in the hunt. Andrade finished second with a three-round 207 total.
After eight career PGA tournament wins, Funk hopes to stay on the Champions Tour for golfers age 50 and older for at least another decade—that despite bouts of pain in his wrists and shoulders. When that happens, Funk tees up NOXICARE™to keep his strokes on the money. It's a natural pain fighter containing seven, anti-inflammatory ingredients.
"Over the years, I've used a number of treatments to reduce the hurt that inevitably comes with punishing exertion. Since I started using NOXICARE™, I don't need prescription painkillers that can be dangerous and addicting," says Funk, who at age 57, has been playing competitively for 30 years.
"We salute Fred for his continuing achievement in one of the world's most demanding sports, and we're very proud that NOXICARE™ helps him play without pain," says Reza Ghorbani, MD, ABIPP, FIPP.
Doctor Ghorbani created NOXICARE™and is the president and medical director of the Advanced Pain Medicine Institute of Greater Washington, DC. He is also founder and CEO of Truceuticals LLC®, which markets NOXICARE™. In addition, he is the author of "Secrets to a Pain Free Life."