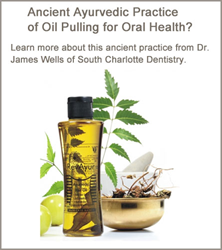 Pulling Oil For Dental Health is non-toxic but may not solve major dental problems. --Dr. James Wells, South Charlotte Dentistry.
Charlotte, NC (PRWEB) March 26, 2014
Dr. James Wells of South Charlotte Dentistry loves that everyone is looking for ways to improve their dental hygiene. With 18 years' experience in dentistry, he has seen a variety of trends come and go. Recently, the ancient Ayurvedic practice of oil pulling made its way back into the internet spotlight. "I love that people are concerned with their oral health," said Dr. Wells. "The first step to a great smile is preventative care."
Oil pulling is an ancient practice that has recently become a trend again and is being discussed on many different social media platforms. Many of these posts declare that oil pulling helps with hair and skin issues as well as improve oral health. The technique of oil pulling is simple. "You pour a spoonful of oil in your mouth and swish it around for up to 20 minutes. Then spit it out in the trash," explained Dr. Wells. "The oil is supposed to collect toxins and bacteria from the mouth."
"We know that bacteria are the leading cause of tooth decay," said Dr. Wells. "But until further research is done, the true benefits of oil pulling are uncertain."
Most people who do oil pulling claim to experience benefits. Coconut or sesame oils are the two oils used most commonly for oil pulling. The claims on the internet state that oil pulling can fill cavities, relieve toothaches, whiten teeth and freshen breath. It's believed that the most benefit from oil pulling is achieved if it is done first thing in the morning.
Dr. Wells is not against trying it. "It's non-toxic and can't hurt." But he warns that oil pulling will probably not solve major dental problems. "Bigger problems like tooth decay, gum disease and alignment issues require professional assistance. But we encourage all of our patients to take an active role in their dental hygiene."
Dr. Wells has not personally tried oil pulling, but thinks he might give it a try. "It would be an interesting experiment." Dr. Wells practices dentistry in the South Charlotte area in Ballantyne. His office is located at 7741 Ballantyne Commons Pkwy Suite 102 Charlotte, NC 28277. Appointments can be made by phone, 704-759-0908, or online at http://www.southcharlottedentistry.com.