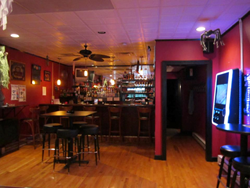 Metal bar stools are a great choice because they are so durable.
Williamsport, PA (PRWEB) March 24, 2014
Leading commercial furniture distributor, Restaurant Furniture Supply recently helped The Planet Bar in Williamsport, Pennsylvania by providing it with new bar stools, tables and table bases for the grand opening of their new bar.
Walnut Bar and Grill is located in downtown Williamsport, PA. The bar offers live entertainment on selected evenings. They are open Wednesday through Saturday and have karaoke on Friday nights. On Saturday nights, The Planet Bar is one of the most popular bar and discos in town and they have a DJ spinning tunes until 1am.
The Planet Bar also has a jukebox and pool tables for customers to enjoy. They recently upgraded their central air conditioning and added a Smoke Eater so they can allow smoking inside. In addition to having a full bar with many beers on tap they also serve 7" subs and appetizers which include chicken tenders and fries, mozzarella sticks and homemade chips. They also serve cheese, pepperoni and white pizzas.
When the owner decided to update the seating, he turned to Restaurant Furniture Supply for new commercial bar stools because of their reputation for excellent quality at affordable prices explained sales person Chris K. He opted to go with Restaurant Furniture Supply's Backless Swivel Bar Stool with Footrest. "It's one of our most popular bar stools," said Chris, salesperson for Restaurant Furniture Supply. "The classic design really fit in nicely with the decor. Metal bar stools are a great choice because they are so durable. Restaurant Furniture Supply is well known for its high quality commercial furniture which can withstand heavy traffic and not become unstable or worn out for many years."
The Backless Swivel Bar Stool with Footrest is currently on sale for $35 from Restaurant Furniture Supply. The American made, full 48 ball bearing swivel mechanism offers 360 degree turning. The high density padded seat is American made upholstered in black heavy vinyl with double stitched welt cord that assures durability and resistance to wear. As with all of Restaurant Furniture Supply's commercial chairs and bar stools, it comes with a one of the most comprehensive warrantees in the industry and is guaranteed to be free of manufacturer defects for one year.
The owner also bought Restaurant Furniture Supply's Reversible Table Tops in mahogany and black finish with black T-mod edge. He bough the 36" X 36" size which sells for only $46. The Reversible Table Tops also come in oak and walnut finish with brown T-mold edge. The tables come in many shapes and sizes and prices start at only $24. "Reversible Table Tops are popular with many bar and restaurants because they are so versatile and affordable," said Chris.
Browse Restaurant Furniture Supply's full selection of commercial grade chairs, bar stools, table tops, table bases, booths and patio furniture at http://www.restaurantfurnituresupply.com/or talk to a customer service representative at (888) 346-9992.
The Planet Bar is located at 326 Court St. in Williamsport, PA. They can be contacted at: (570) 320-1101.