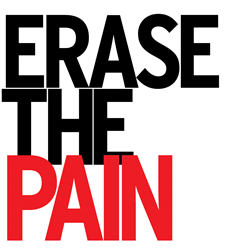 "Erase the Pain is aimed at bringing real and lasting relief to the 4.6 million Canadians living with the daily pain of arthritis," says Janet Yale, president and CEO of The Arthritis Society.
Toronto, Ontario (PRWEB) March 24, 2014
The Arthritis Society today launched a $25 million campaign to engage Canadians in an effort to Erase the Pain of arthritis. As the country's largest non-governmental funder of arthritis research, The Society is appealing for support in helping the one in six to Canadians that lives directly with arthritis.
"Erase the Pain is aimed at bringing real and lasting relief to the 4.6 million Canadians living with the daily pain of arthritis," says Janet Yale, president and CEO of The Arthritis Society. "Our goal is simple but ambitious: bring Canadians together in a sense of common cause to seek a cure, to boost care and to build a community where people receive the support and information they need."
The campaign was guided by the life experiences of those living with arthritis, shared over the past six months at http://www.thepain.ca. Through this dialogue, The Society has identified the highest priorities for action, which are reflected in five signature initiatives under the banners of "Cure," "Care," and "Community."
CURE – Erase the Pain will look to build on Canada's position as a global leader in arthritis research by targeting two priority areas of discovery.
1. Cracking the Code – Much remains unknown and misunderstood about arthritis pain. For instance, why are some people with arthritis pain-free, while others live with constant debilitating pain? The latest research shows us that pain is linked to specific proteins in the nervous system, genetics, psychological health and changes to the nerves in our body. Canadian researchers are exploring these insights to potentially unlock new channels to treat arthritis pain.
2. The Off Switch – The most definitive way to erase arthritis pain is to prevent or cure the diseases that trigger it. This requires research into the fundamental mechanisms of the disease in order to prevent, detect and treat arthritis before it takes hold of a person's life. This work will employ the latest technologies and leading-edge research techniques to study disease mechanisms, biomarkers, genetics and high-resolution imaging.
CARE – By 2036, the number of Canadian adults living with arthritis will rise to 7.5 million. Seeking to address the anticipated surge in demand, The Society is spearheading two landmark initiatives.
3. 5,000 in Five – The Society will work in partnership with key stakeholder groups to boost the number of arthritis-trained health professionals on the front lines of care by at least 5,000 in the next five years. From pharmacists with specialized training, to physical and occupational therapists qualified to ease the pain, the ambition is to dramatically increase access and quality of care available to Canadians in all communities.
4. Closing the Gap – Canada is facing a critical shortage of rheumatologists. At present, only 350 are in practice across the country. The goal is to increase that number substantially and deliver effective care to an estimated additional 350,000 Canadians. Incentives such as new scholarships and career training programs will be funded to address this vital need.
COMMUNITY – In the digital age, those living with arthritis are challenged to find trusted information and quality advice. The Society is about to change that.
5. Community Central – Using a combination of social and digital tools, The Arthritis Society is creating one home for Canadians living with arthritis that can serve as a combined online community centre, referral board and resource library. Being able to share stories, resources and access to credible information will make this portal a vital component of self-management strategies employed by Canadians with arthritis. It will also provide greater access to The Society's wide array of in-person community programs that support thousands of people each year.
"Arthritis pain is relentless, affecting every part of your life," says Jesse Robertson, diagnosed with juvenile rheumatoid arthritis when she was 12. "We need new approaches to inspire hope and deliver real change. Too many people accept arthritis in silence. I hope Canadians respond to the call to drag arthritis out of the shadows and work with The Arthritis Society to help erase the pain."
To learn more about the Erase the Pain campaign, make a contribution or share an arthritis story, please visit http://www.thepain.ca.