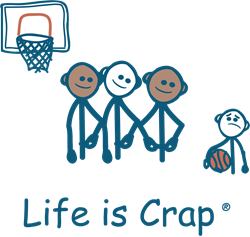 You are likely never to win a dime during March Madness – but it sure is fun trying!
Manchester, Vermont (PRWEB) March 25, 2014
For the next two weeks, March Madness brackets will be the most important document on many computers, in the bathroom, or under the stack of the other essential reading materials. In fact, by now, it may already be in the 'Crapper'.
"The team at Life is Crap has been searching for the one perfect formula that would ward off bracket-busting failure in the upcoming tournament," says Paul Wheeler, Partner at Life is Crap. Paul continues, "Some folks decide to go simple and pick based on their favorite mascots. Some people consult psychics or hold séances to get a peek at the future. There are even a few folks who actually follow hoops, know the players, keep stats, do the research and are well equipped with sold details about each team's performance all year. These guys are buzz kills and are considered bracket headed nerds!"
In the spirit of recognizing all the craziness & mayhem that is March Madness, the wackos at Life is Crap want to share a few little known statistics just for fun:
In the six previous Final Fours played in Texas, a team from Kentucky has made the Final Four in four of them and won twice (Louisville, 1986; and Kentucky, 1998).
Since 1985, when the tournament went to 64 teams, only seven champions have shot less than 70% at the free throw line. However, no winner has shot better than 77%.
Since seeding began in 1979, there have been three years when a No. 1 failed to make the Final Four. But there has been only one year (2008) when all four No. 1s made it.
Since 1989, the national title has been won by a coach with an "I" in his last name 18 times. Not since 1997 (Lute Olson with Arizona) has a coach won the title without having an "I" in his first or last name.
Duke (.750) has the best winning percentage for teams playing a minimum of 20 tournament games. Others in the tournament: UCLA (.725), North Carolina (.722), Florida (.714), Kentucky (.707), Kansas (.699), Michigan State (.683) and Michigan (.672).
The only seeds to win titles are Nos. 1, 2, 3, 4, 6 and 8. In addition, three No. 11 seeds have made the Final Four, but a 10, 12, 13, 14, 15 or 16 have never been there.
Dean Darling, Studio Manager and Basketball aficionado, offered, "Whomever said mathematics is made up of 50% formulas, 50% proof, and 50% imagination was filling out an NCAA hoops bracket!"
The Life is Crap team has decided that the only thing you really need is paper and a well-sharpened No. 2 pencil to fill out an NCAA Basketball bracket. If anyone professes to have any more knowledge than that, they probably have a great piece of ocean front property in Arizona for sale.
So, rather than agonizing over bracket completion, the guys at Life is Crap suggest you check out the latest March madness commemorative t-shirt design or any of the other Crappy products designed to take your mind off filling in those pesky brackets.
Always remember 'Crap Happens and Laughter is the Cure'.
About Life is Crap®
Life is Crap® is a humor-based apparel company, with a focus on tees, hoodies, and gift items. Our brand focuses on crappy situations and pokes fun at the humor within those situations. At Life is Crap®, we believe that the universal cure to crappy situations is laughter. We believe that poking a little fun at ourselves, and the world, is the best way to get through those occasional lousy moments. Life is Crap® is the flagship brand of Offsides Branding & Licensing. For more information, visit lifeiscrap.com or offsidesbranding.com.