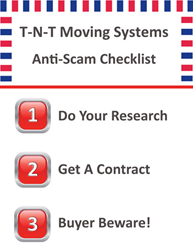 "Most people are looking for the lowest price when it comes to movers, but cheap can often cost you a lot more." -- Todd Koepke, T-N-T Moving Company
(PRWEB) March 26, 2014
Recently, moving scams have been on the rise, according to MovingScam.com. T-N-T Moving Systems in Charlotte, NC with over 19 years of moving experience want to offer tips to help protect people from getting robbed and/or cheated.
According to MovingScam.com, moving companies in North America - from Florida to Canada - have been stealing and breaking possessions of their customers, and demanding extra money to deliver property. In November five moving companies in Florida were shut down for holding customer's belongings hostage. In Calgary, British Columbia, a couple's possessions were stolen by a moving company operated by a criminal previously charged with multiple counts of fraud. In December, the U.S. Senate Committee on Commerce, Science and Transportation heard testimony on the problem of moving companies holding customer goods hostage, demanding more money than the agreed upon price before delivering goods.
"The moving industry can be a potential place for con artists," said Todd Koepke, co-owner of T-N-T Moving Systems of Charlotte. "Most people are looking for the lowest price when it comes to movers, but cheap can often cost you a lot more."
Tom Tulowiecki and Todd Koepke, owners of T-N-T, offer these suggestions to avoid becoming a victim of a moving scam.
Do your research
"Look for a company that's been around a while, especially serving the long distance services market," said Tulowiecki. He suggests that before you sign a contract, check out the moving companies' websites and give them a call. Get their address and drive by the location. "A lot of moving scam businesses don't even have an office. Some have listed a UPS store as their address. That's a big red flag," added Koepke. They also suggest looking at social media, the Better Business Bureau website, and Yelp for reviews.
Get a Contract
"A contract will help protect you and your belongings in case something goes wrong," said Koepke. T-N-T gladly provides free estimates to their customers and a contract before moving service are provided. For long distance moves, which require that they charge by freight weight, they provide a 'not-to-exceed' amount to their customers before they get on the road.
Be wary of 'Too good to be True' deals
"If the deal looks too good to be true, it probably is," said Tulowiecki. "We've heard horror stories about how cheap movers in Charlotte actually end up costing more through hidden fees or property damage." T-N-T recommends that you go with a company that has proof of insurance and an itemized cost list for packing, loading, unloading, and equipment.
Moving season is quickly approaching with spring and summer being a more ideal time for people to move due to weather and school calendars. When planning a move, consider the tips provided by T-N-T Moving Systems in Charlotte, NC to avoid a scam. They offer free estimates on their website: http://www.tntmovingsystems.com.