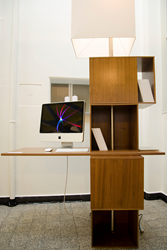 The focus on combining beauty and sustainability is what makes Atelier Phi stand out
Geneva, Switzerland (PRWEB UK) 4 April 2014
Following a successful first exhibition in Montreux last month, Atelier Phi designer Sophia Slingerland has been invited back to Magnolia Gallery a second time to showcase her furniture alongside 15 other contemporary artists.
Atelier Phi will be presenting the innovative steel and aluminum range of tables and chairs created using only locally sourced materials from sustainable Switzerland-based suppliers. The furniture of Atelier Phi is created with a vision of superior craftsmanship and "outside the box" design principles inspired by Sophia Slingerland's background in architecture.
Internationally renowned artists from New York, Paris, Uruguay, Colombia and throughout Europe will also feature at the Magnolia Gallery, including Marc Inderkum, Daniel Castan, Gregos, Dominique Fury, Marie Muskens, Gustavo Ten Hoever, Marc Ninghetto, Vinc and Naomie Wenger.
The exhibition will take place in a renovated 1930s factory building in central Geneva and proceeds will go to Fondation Aide Aux Enfants children's charity. The factory's open floor plan with high vaulted ceilings is an ideal space for showcasing this unique collection of paintings, photographs, prints and furniture designs.
"I'm so pleased to be invited back to the Magnolia Gallery a second time, and for my work to be showcased alongside some of the most exciting artists out there today," says Slingerland.
"My latest steel and aluminum collection was conceived and designed in a truly unique way. The focus on combining beauty and sustainability is what makes Atelier Phi stand out and I'm proud to be able to share these designs with lovers of contemporary art and design in the great city of Geneva."
For more information about the exhibition, visit the Magnolia Gallery website. Visitors are also welcome to view the aluminium and steel range, along with Slingerland's full collection of furniture at the Atelier Phi showroom in Nyon, Switzerland.
About Atelier Phi
Atelier Phi is a Switzerland-based furniture boutique showcasing the work of architect and designer, Sophia Slingerland. All pieces are either unique or made in very small series to ensure the highest quality and craftsmanship. Slingerland believes in bringing design principles of architecture into interior spaces to create furniture that is eco-friendly, beautiful, flexible and defies the ordinary. For more information or to enquire about bespoke furniture creations, visit the Atelier Phi website or contact Sophia Slingerland directly at s(dot)slingerland(at)ateliers-phi(dot)com.