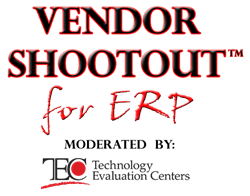 Best way to get a neutral presentation of the products in a concise format.
San Diego, CA (PRWEB) March 25, 2014
Established in 2007, the Vendor Shootout™ for ERP is the nation's first and longest running event focused on simplifying enterprise resource planning (ERP) software evaluation, and selection. Geared toward ERP selection teams and decision makers for companies with manufacturing and distribution requirements, this premier event is ideal for businesses that are budgeting for or are currently evaluating an ERP software upgrade or replacement.
The goal of the event is to assist manufacturers and distributors with their ERP selection process by bringing top Tier I and Tier II ERP solutions to a neutral platform for presentation and comparison. The event will consist of live scripted product demonstrations from these top ERP vendors, as well as insightful general session presentations, to allow for an efficient decision making process that would otherwise take months of planning, logistics and planning. In addition, to the scripted demos, each product presenter will cover additional topics such as user interfaces, product functionability, overall usability, and key functionality specific to each product. The concise format of the event benefits not only ERP system shoppers but also ERP vendors by converging to a single event where both parties can achieve their goals, while saving time and cost.
Past Vendor Shootout attendees have described the streamlined presentation as "invaluable," "A first class show," "extremely informative and professionally delivered," and the "Best way to get a neutral presentation of the products in a concise format."
Aside from "business," the event is also kicking-off in style, Vegas Style to be exact. One lucky attendee will win a luxurious 2 night experience at the renowned Bellagio, Las Vegas, courtesy of the Vendor ShootoutTM collaborative team. Known as one of the finest resorts on the strip, the lavish resort boasts amenities, such as a world-class golf course, over 15 fine dining and casual establishments, a fine arts gallery, award-winning spa, Cirque du Soleil show, casino, and countless attractions.
For additional information, sponsorship opportunities or to register for the upcoming Vendor Shootout™ for ERP on April 16-17, 2014 in San Diego, California, visit http://www.erpshootout.com or call 877.907.2702. Group rates are currently available. However, space is limited.
###