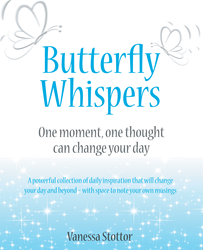 The book eases readers into discovering the world outside their self-imposed cocoons and brings them a fresh, positive perspective on life.
Great Missenden, England (PRWEB) March 25, 2014
Do positive or negative thoughts decide the course of your day? Dominant positives beliefs are essential to a strong foundation in life, says Vanessa Stottor, author of "Butterfly Whispers: One Moment, One Thought Can Change Your Life."
Stottor speaks from personal experience; for six years, her husband was under the spell of addiction to alcohol and drugs. She tried to bring him back while struggling to overcome a melanoma diagnosis, maintain a beauty consultation business, and raise her young family. Stottor realized the burden had grown too heavy when she caught herself contemplating killing her husband to end it all.
"I couldn't believe what my life had come to; that I would honestly ponder something like that, even in a passing thought," Stottor said. "I had hit rock bottom and realized that instilling positive thoughts and gratitude were the first step in turning my life around."
Stottor immediately sought help for her family and set out to change her circumstances. Now, with her husband sober for more than four years, Stottor is a top beauty sales consultant in the United Kingdom as well as a successful transformational speaker and mentor.
In "Butterfly Whispers," Stottor offers 365 inspirational passages that help readers adopt positive and motivating mindsets. Through brief daily reflection, Stottor gives readers the tools necessary to approach life with a fresh sense of importance and motivation.
"The way we think, speak and behave can impact those around us in a negative way," Stottor said. "The book eases readers into discovering the world outside their self-imposed cocoons and brings them a fresh, positive perspective on life."
For more information, visit http://www.vanessastottor.com
"Butterfly Whispers: One Moment, One Thought Can Change Your Life"
By Vanessa Stottor
ISBN: 978-1-4525-8472-0
Available in softcover and e-book formats
Available on Amazon, Barnes & Noble and Balboa
About the author
Through her work as the leading beauty sales consultant in the UK and accomplished inspirational speaker, Vanessa Stottor dedicates her life to helping people find better lives. Through her work, Stottor teaches men and women to discover their purpose, build confidence, find their inner happiness and free their inner butterflies. She lives in Great Missenden, England, with her family.
# # #