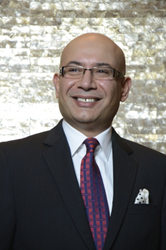 Mclean, Va (PRWEB) March 24, 2014
We are pleased to announce that Mr. Rajesh Khubchandani has accepted the position of General Manager for The Ritz-Carlton, Tysons Corner, effective March 8, 2014.
Rajesh (Raj) brings a significant amount of experience to this role and has been a leader in the hospitality industry for more than 20 years. He began his career after graduating from the University of Calcutta, India, and worked in almost every operational area of hotels to understand the business from the ground up. Raj also studied at Cornell University in Strategic Hospitality Management studies, and finished his post graduate studies at the Oberoi Center of Learning and Development in New Delhi, India.
Raj began his career in 1990 with Oberoi Hotels & Resorts where he held a number of leadership roles in both the Rooms and Food and Beverage divisions at multiple properties throughout India. He originally joined Marriott International in 2002 as Director of Events at the Toronto Airport Marriott, and later served as Director of Operations at the same hotel. He became part of The Ritz-Carlton Hotel Company in 2007 as Director of Operations for The Ritz-Carlton, Boston Common in 2007 and then became the opening Hotel Manager at The Ritz-Carlton, Los Angeles at LA Live in 2009.
Most recently, Raj served as the General Manager of the AAA Five Diamond Award recipient hotel,
The Ritz-Carlton, Boston Common from 2011. During his tenure in Boston, the hotel launched a very successful new Bistro and Lobby bar, and achieved its highest ever employee engagement scores. Under the direction of Mr. Khubchandani, the property also witnessed Best in Company Meeting Planner Gallup results and a significant increase in Gallup Full Engagement Scores. In addition to his role as General Manager, Raj served on the boards of the Massachusetts Lodging Association and The Back Bay Association in Boston.
Raj has won numerous awards for his efforts and accomplishments since joining The Ritz-Carlton Hotel Company and most recently was named a 2011 Cobalt Award winner for Guest Engagement. On why he picked the hotel business, Rajesh states that it was "Because of being able to work with terrific people in a business where no two days are alike and one wears multiple hats all the time. What gives me energy is the relationships I am able to forge with our employees and customers." Raj and his wife Sonali, along with their two daughters Mehk and Mihika, look forward to relocating to Tysons Corner.
###
The Ritz-Carlton, Tysons Corner, located in Northern Virginia's most exclusive business and shopping district, was named among the top 50 hotels in the United States by the 2012 Condé Naste Traveler Reader's Choice Awards and included in Travel and Leisure's 2013 World's Best Hotels. The property offers 13 conference rooms, the largest ballroom in Northern Virginia, 398 guest rooms and a Day Spa, accompanied by exceptional dining and impeccable personal service.
The Ritz-Carlton Hotel Company, L.L.C., of Chevy Chase, Md., currently operates 85 hotels in the Americas, Europe, Asia, the Middle East, Africa, and the Caribbean. More than 30 hotel and residential projects are under development around the globe. The Ritz-Carlton is the only service company to have twice earned the prestigious Malcolm Baldrige National Quality Award, an award that originated in 1987. Its purpose is to promote the awareness of quality excellence, recognize quality achievements of companies and publicize successful quality strategies. The Ritz-Carlton Hotel Company won the award in 1992 and 1999. For more information, or reservations, contact a travel professional, call toll free in the U.S. 1-800-241-3333, or visit the company web site at http://www.ritzcarlton.com. The Ritz-Carlton Hotel Company, L.L.C. is a wholly-owned subsidiary of Marriott International, Inc. (NASDAQ: MAR).