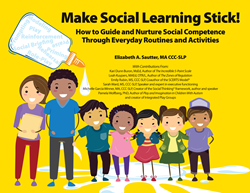 I recommend this book for anyone who has children, works with children, or cares about and wants to help children progress in their social learning.
Lenexa, KS (PRWEB) March 25, 2014
A new book from AAPC Publishing in Lenexa, Kansas, offers a "social learning diet" of suggestions that can be used in everyday life to increase verbal and nonverbal language, listening skills, understanding of hidden rules, perspective taking, executive functioning, and more. The activities are recipes for social and emotional learning for which parents, teachers, and therapists typically already have the ingredients. With close to 200 fun and easy activities, including contributions from leading experts, this book offers numerous ways to embrace teachable moments throughout daily routines without having to do extra work! Events like getting ready for school, preparing dinner, going to the doctor, and celebrating Thanksgiving become opportunities for teaching and reinforcing expected social behavior. Geared toward children in preschool through elementary school, the ideas are meant to inspire creativity that suits each specific child. Activities are easily tailored to meet a child's developmental level and needs.
Book signing by the author scheduled at Communication Works, Booth #313:
Thursday, March 27, 5:30-7:30 p.m.
Friday, March 28, 12:00-1:00 p.m.
Saturday, March 29, 12-1:00 p.m.
For more information about Communication Works, please visit http://www.cwtherapy.com.
About the Author:
Elizabeth Sautter, MA CCC-SLP, co-directs and co-owns Communication Works, a private practice offering speech, language, social, and occupational therapy for children and adults. She has worked with preschool to adult clients and their families since 1996 in private practice, schools, and hospitals. Following her professional passion, Elizabeth has specialized in social communication, self-regulation, and executive functioning. She thrives on learning and developing functional and creative intervention tools and programs to support her clients, and enjoys collaborating with other professionals and parents. Her relationships with her sister and extended family members with special needs have made her work a lifelong endeavor. She has completed a mentorship and internship with Michelle Garcia Winner, Stephanie Madrigal, and Pamela Crooke, and has co-authored two popular children's books about whole body listening, Whole Body Listening Larry at Home and Whole Body Listening Larry at School. She lives with her husband, two sons, and a dog, who continually teach her new life lessons and keep her smiling.
About AAPC Publishing:
Established in 1999, AAPC Publishing's mission is to be the first source for practical solutions related to autism spectrum and related disorders. AAPC is an independent publisher, targeting professionals and parents alike. AAPC Publishing strives to offer publications at affordable prices so that important resources are accessible to anyone with an interest in the autism spectrum.
For media inquiries, please contact marketing(at)aapcpublishing(dot)net.