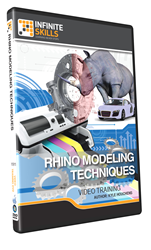 Learn Rhino Modeling Techniques at your own pace.
(PRWEB) March 24, 2014
Software training firm Infinite Skills Inc. this week released its "Rhino Modeling Techniques Tutorial," an advanced course designed for Rhino users looking to improve their drawing and modeling skills.
Rhinoceros 3D (Rhino) is a 3D modeling software commonly used in design, architecture, multimedia and graphic design. Rhino specializes in free-form, non-uniform rational B-line spline modeling, allowing users unlimited flexibility in modeling shapes.
Infinite Skills' Rhino Modeling Techniques Tutorial provides an advanced-level guide for mastering Rhino's complex modeling tools.
Rhino Modeling Techniques Video Training - Streaming
Course author Kyle Houchens owns and operates a digital art and design company, and is a technical support specialist at McNeel and Associates, producers of Rhino 3D. He has more than 20 years of professional design experience, with expertise in designing for the automotive and toy industries.
In this course, Houchens dives immediately into exploring Rhino's modeling functionality, demonstrating the Rhino project workspace as he introduces the course modeling project.
Houchens then begins modeling elements of the animated car, demonstrating, for example, the revolve and mirror commands as he shows how to build the car's wheels and tires.
Then comes the main body of the car, where users model the overall stance and look of the car, design fenders, headlights, windows, and more, learning critical Rhino drawing skills as the car begins to take its final shape.
Houchens closes with chapters on various kinds of output, showing how to prepare the model for 3D printing, computer numeric control, materials, rendering, and 2D drawings.
"My specialty is toys," Houchens explains, "so we're going to organize the course around designing a child's toy. We'll start with my original pencil sketches, and take the drawing through to a completed model, teaching a robust complement of advanced Rhino modeling skills and tools along the way."
Free demo videos and a full list of course contents can be found on the Rhino Modeling Techniques training page of the Infinite Skills website:
http://www.infiniteskills.com/training/rhino-modeling-techniques.html
Infinite Skills offers its Rhino Modeling Techniques Tutorial either as a DVD or a direct download from the company website at a retail price of $49.95. All titles and formats are compatible with Mac and Windows operating systems. Shipping is available around the globe. Additionally, Infinite Skills tutorials are supported by project files which correspond to examples in the videos, allowing users to work alongside experienced instructors right on their computer or iPad.
About Infinite Skills Inc.
A leader in the field of software training, Infinite Skills designs its courses on a task-oriented model, teaching complex skills by providing hands-on examples and guiding users as they carry out essential functions. Infinite Skills offers a wide range of software titles available as DVDs, digital downloads, and in iPad editions. Infinite Skills now offers a subscription service, providing access to all its training content for a monthly fee, keeping with company's aim of delivering professional training to customers anywhere they want to learn.