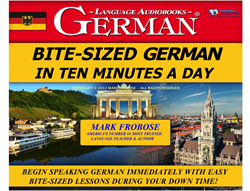 "Now is the time to begin learning a new language!" - Mark Frobose/FounderLanguageAudiobooks.com
Champaign, IL (PRWEB) April 01, 2014
We have all heard the pros and cons of learning more than one language.
Many say the advantages of being multilingual include increased self-esteem, freedom from dementia, vastly more enjoyable travel, and a level of coolness that the monolingual seldom enjoy.
But in actual dollars and cents, just how much is it worth to an individual to know more than one language?
According to Albert Saiz, an MIT economist who calculated the 2% premium, different languages pay different premiums. Surprisingly, just 1.5% for Spanish, 2.3% for French and 3.8% for German. However paltry this sum may appear, over time this can translate into big differences in the language account: your Spanish might be worth $51,000, but French, $77,000, and German, $128,000 over a lifetime career.
Does this mean that Spanish is less useful than German?
According to Mark Frobose, founder of LanguageAudiobooks.com, the difference in lifetime premiums for less-popular languages is due to supply and demand.
"There is simply a greater supply of English/Spanish speakers than English/German speakers," states the bestselling author of Power Spanish Accelerated.
Frobose, the bestselling author of Bite-Sized German in Ten Minutes a Day goes on to say, "Germany is an economic powerhouse, and knowing fluent German and English can pay huge dividends, even if the German language is far less common and popular than Spanish."
Does this mean we should abandon our plans to learn Spanish in favor of less popular languages?
"Definitely not," states Mark Frobose emphatically. "Spanish is already the unofficial second language of the United States and the value of knowing Spanish is incalculable. What people need to remember is that now is the best time to begin learning their first new language," Mark concludes.
Language Audiobooks Inc. specializes in downloadable digital language programs like the bestselling Power Italian Accelerated which are extremely fast and easy to learn and that are immediately accessible to any smart phone or computer. The Language Audiobooks' motto is "Learn Languages Everywhere™".
The company's founder and CEO Mark Frobose is an expert language teacher who created the entire language audio line for Macmillan Audio of New York including the bestselling "Behind the Wheel French" program. For over a quarter of a century, Mark has created and produced more successful audio language programs than any other living individual in the world today. His bestselling Power Spanish Accelerated is rapidly becoming the nation's favorite all-time Spanish program.
Language Audiobooks' popular Power Spanish, Bite Sized German, Power Portuguese, Power French, and Power Italian, Bite-Sized Mandarin, Conversational Latin-American Spanish, Clean French Slang and other innovative language programs are available for download now at Audible.com or in CD format at Amazon.com and at the company's website at http://www.languageaudiobooks.com.