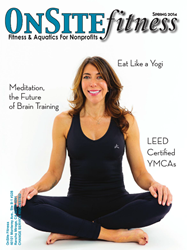 Los Angeles, California (PRWEB) March 25, 2014
Beth Shaw, E-RYT, BS, CMT, founder and president of YogaFit® Training Systems Worldwide, is being featured on the cover of the Spring 2014 issue of OnSite Fitness. The issue also contains an editorial by Shaw about the importance of eating healthy and how balancing a diet shares many of the principles of yoga.
In her editorial "Eat Like A Yogi," Shaw explains that yoga means a "union" between the mind and body. Practicing yoga requires coordination between breathing, moving into poses and introspection, all of which have a subtle yet obvious effect on the mind.
"The mind-body union applies directly to healthy eating," wrote Shaw. "In yoga (just like nutrition) each one of us has our own special needs and abilities, as well as the postures (or foods) that fuel our lives. The most important thing is to find the balance that's right for you personally."
Shaw is the innovative educator, entrepreneur, and visionary responsible for YogaFit as well as YogaButt, YogaStrength, YogaCore, YogaLean, and countless other yoga fitness combinations. She has more than 100 DVDs and CDs on the market and is widely recognized as the premier yoga fitness trainer in the industry.
OnSite Fitness is a quarterly business-to-business fitness and aquatics print and digital publication. It is delivered around the country to qualifying YMCA, YWCA, and JCC staff members, serving over 25.5 million members through approximately 3,400 facilities. The objective of OnSite Fitness is to foster a grassroots involvement with the Y and YW branches and JCC centers, expanding interest in fitness and aquatics, increasing member involvement and improving operation efficiency facility effectiveness.
Read the Spring 2014 issue of OnSite Fitness online: http://digital.turn-page.com/t/6592.
ABOUT YOGAFIT® TRAINING SYSTEMS WORLDWIDE
YogaFit® Training Systems Worldwide was established in 1994 and has since trained more than 250,000 yoga and fitness professionals worldwide. The leader in mind body fitness education, YogaFit® is the largest training school for yoga instructors in North America with further expansion ongoing internationally. YogaFit® is the American Council on Exercise's (ACE) premier and only yoga partner. Founder and President Beth Shaw is internationally recognized as the foremost authority on yoga and fitness and has been profiled in print publications and television programs including the Huffington Post, Wall Street Journal, Oprah's O Magazine, CNN, The New York Times, USA Today, Entrepreneur, SELF and is currently a New Business Group Member of the New York Times. YogaFit® is committed to community service as well as supporting animals and humanitarian causes.
For more information on YogaFit®, please visit http://www.YogaFit.com.