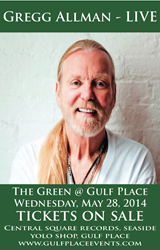 "We know the thousands of Gregg Allman fans in North Florida, Louisiana, Alabama and Georgia will be as excited as I am to see a music icon perform here on 30A and the Emerald Coast," said John Gaston, Gulf Place owner.
Santa Rosa Beach, FL (PRWEB) March 26, 2014
Shake off the winter blues with a trip to Florida's Emerald Coast this Memorial Week as Rock & Roll Hall of Famer Gregg Allman brings his distinctive Southern Rock sound to the beach.
Allman, a founding member of the Allman Brothers Band and a storied solo-performer will headline at 30A's The Green @ Gulf Place on Wednesday, May 28 before an expected sell-out crowd of 4,500 fans.
Tickets are available today at http://www.GulfPlaceEvents.com.
Georgia-based Gregg Allman is listed by Rolling Stone magazine as one of the "100 greatest singers of all time," has had 7 solo chart-topping albums over a 40 plus year career, including his 2011 Grammy nominated album "Low Country Blues." But despite a lifetime of touring, this will be Allman's first time performing on the shores of South Walton.
"We are excited to have Gregg Allman join us at The Green @ Gulf Place for this Memorial Week Concert," said venue director Jon Brooks. "Gregg is hugely popular across the South East, he has one of the most distinctive voices and musical styles - complete with a remarkable lifetime catalogue of original songs."
The Green @ Gulf Place has quickly become a favorite for music lovers on the Florida coast hosting weekend concerts during Summer, the largest venue of the annual 30A Singer/Songwriter Festival and was a former home of the Seabreeze Jazz Festival.
"It will be a special night in South Walton for music fans of all ages to listen to a true legend perform here in our own community," said Gulf Place owner, John Gaston. "We look forward to delivering great entertainment to local residents and visitors alike, and know the thousands of Gregg Allman fans in North Florida, Louisiana, Alabama and Georgia will be as excited as I am to see a music icon perform here on 30A and the Emerald Coast."