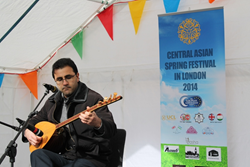 Since the regaining of Azerbaijani independence in 1991, Novruz has become synonymous with the identity of the nation.
London, UK (PRWEB UK) 24 March 2014
A staggering 1300 London-based residents from the Caucasus and Central Asia, together with those fascinated by the region, attended a celebration of Novruz at the main quadrant of University College, London (UCL) on 23 March. The event was sponsored by The European Azerbaijan Society (TEAS). All attendees were provided with TEAS bags containing magazines and information about Azerbaijan, and a tee-shirt bearing the slogan Khojaly 613, reminding wearers of the Khojaly Massacre in 1992, which claimed the lives of 613 civilians during the Armenian invasion of Nagorno-Karabakh.
This vibrant, colourful and family-oriented celebration showcased the traditions, food and national dress of Azerbaijan, Kazakhstan, Kyrgyzstan, Tatarstan (Russian Federation), Tajikistan and Uzbekistan. Food from each of the countries represented was served from their respective tents, and souvenirs and leaflets were distributed.
Highlights included a performance by 19-year-old Fidan Hajiyeva, who was recently the BBC Radio 3 World Routes protégé, performing 'Azerbaijan', to music by Uzeyir Hajibeyli.
Later in the day, Fidan was followed by Babek Tabrizli on saz and vocals, who performed two romantic folksongs – 'Kuchalara su Sapmisham', which is best-known in its recording by Rashid Behbudov, and 'Sevmamak Olmaz'. Then members of the UCL Azerbaijan Society donned national dress to perform the dances 'Yalli' and 'Uzundara'. The latter dance originated in Agdam, a town in Nagorno-Karabakh, which remains under Armenian occupation.
The open-air event was followed by a VIP concert and networking.
Although the origins of Novruz remain shrouded in mystery, predating as it does the advent of Christianity and Islam in Azerbaijan, the festival is generally recognised as celebrating the New Year and the time of rebirth at the start of spring. In Azerbaijan, this festival for all the family is celebrated with a five-day Public Holiday, and symbolic acts include tree-planting, egg-painting, and the making of such pastries as pakhlava. Samani (wheat grass) normally forms the centrepiece of the festive table.
During the 75 years of Soviet rule, Novruz celebrations in Azerbaijan were unofficial and frequently suppressed. However, since the regaining of Azerbaijani independence in 1991, Novruz has become synonymous with the identity of the nation.
Organisers: British-Uzbek Society, UCL Kazakh Society, Kazakhstan Student Society in the UK, UCL Azerbaijan Society, Kyrgyz Club UK, British-Tajik Society, and UK Tatar Association.