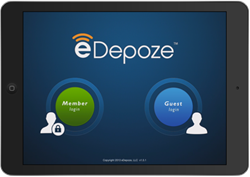 eDepoze was created by litigator Shawn Kennedy to improve the paper deposition process.
Orange County, CA (PRWEB) March 25, 2014
eDepoze, LLC, today announced the version 1.6 release of its paperless deposition software, increasing overall efficiency and value with feature enhancements throughout the product and a more robust Web App. With this release, eDepoze is strengthening the security and overall user experience of the software to make it more usable for a traditional deposition workflow. New organizational features – including exhibit logs and date and time stamping – save time and make it easier for attorneys to navigate the overall deposition as it evolves.
eDepoze launched its Web App in December, providing browser-based access to the software for participants unable to access the software via an iPad. With the version 1.6 update, the Web App has been improved to provide a full-feature experience that rivals that of the iPad App. Additional features in the latest release include:

Full-page document viewing experience on the iPad App, with enhanced annotation tool interface, portrait orientation support, and easier navigation
Support for new document file formats, including JPG, PNG, GIF and TIFF
System-wide security enhancements, including stronger password requirements and a data purge feature for increased privacy on borrowed devices
Simplified case and deposition management
Exhibit logs at the case and/or deposition level
"Placeholders" that allow eDepoze to account for non-electronic exhibits
Organizational enhancements allowing deposing counsel to have better information about introduced exhibits and documents that have been annotated by the witness
eDepoze was created by litigator Shawn Kennedy to improve the paper deposition process by combining a cloud-based repository with an iPad or web-based interface. By securely uploading potential exhibits in advance, but only sharing them as they are marked and introduced, eDepoze eliminates the cost and hassle associated with printing and transporting paper, supports remote depositions, keeps exhibits organized, and allows all parties to annotate and retain personal copies of all exhibits. The software was designed specifically to mirror the paper deposition process, and requires little technical know-how. Key features of eDepoze include:
Paperless depositions, using electronic documents as exhibits
No printing, copying or shipping exhibits
Instant access to official exhibits at no additional cost
Ability to annotate personal copies of exhibits
Take or attend depositions remotely
Support for multi-party depositions
Secure, cloud-based environment
Access to documents anytime and anywhere
Simple to use, intuitive iPad or web-based interface
Integration with Relativity® to allow documents to be imported directly for use as potential exhibits
To learn more about eDepoze, or to schedule a demonstration, please visit http://edepoze.com.
About eDepoze, LLC
eDepoze, LLC is a legal technology company whose flagship product, eDepoze, is a powerful, yet easy-to-use cloud-based deposition software system that that delivers the convenience, efficiency and cost-effectiveness of a paperless deposition while mirroring the tried-and-true deposition process that litigators have used for decades. eDepoze, LLC is headquartered in Orange County, CA.
Media Contact
Ashley Allman
Ashleymarieallman (at) gmail (dot) com
206-390-8731