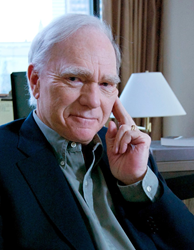 "True character is revealed in the choices a human being makes under pressure - the greater the pressure, the deeper the revelation, the truer the choice to the character's essential nature," Robert McKee, STORY.
(PRWEB) March 24, 2014
The controversial and commanding writing instructor Robert McKee will present a four-day Seminar and a five-day Festival in New York City this April. McKee—whom non-writers remember as played by Brian Cox opposite Nicholas Cage and Meryl Streep in Charlie Kaufman's Oscar-winning Adaptation—stands out among public intellectuals for his sharp edges, sharp humor, and endurance. You might imagine a public lecture running for an hour or two; Three would seem long. McKee—at 73 years of age—paces the stage while lecturing for 8-9 hours a day for 4-5 days in a row, depending on the seminar. Because the lectures cannot be interrupted and still finish on time, McKee takes questions on the audience's breaks.
Some think of it as a university course packed into four days. Many take it more than once. John Cleese (creator of Monty Python's Flying Circus, Life of Brian, The Meaning of Life, Fawlty Towers, A Fish Called Wanda) attended the lecture four times. Joan Rivers, Akiva Goldsman, William Goldman, Russell Brand, Zak Penn, Steven Pressfield, and Drew Carey are alumni, and the last four have taught lessons or done technique interviews for McKee's online resource, Storylogue.com. The teachings seem to work. Billy Ray (writer of Academy Award Nominated Captain Phillips) was quoted in the magazine Written By: "I don't think I'd be a writer if it wasn't for the Robert McKee class. My debt to him is huge." Paul Haggis (two-time Academy Award winning writer of Crash, Million Dollar Baby, Casino Royale) said: "Everything I know about story structure I learned from Robert McKee. End of story."
This list goes on. In fact, 12 films nominated for Academy Awards this year were written, directed, produced, or starred in by McKee's students (and over 250 past students have been nominated). Pixar (Up, Finding Nemo, Toy Story, Wall-E) treats McKee's principles as "the law of the land", according to The Pixar Touch.
While Adaptation depicted McKee farcically (with his consent and help), McKee's dedication is quite serious. In short, the story behind his commitment is that "A culture cannot evolve without honest, powerful storytelling. When society repeatedly experiences glossy, hollowed-out, pseudo‐stories, it degenerates. We need true satires and tragedies, dramas and comedies that shine a clean light into the dingy corners of the human psyche and society. If not, as Yeats warned, '… the centre can not hold.'" Because McKee sees stories as crucial to—and intertwined with—the evolution of culture, his lectures get laughs as he shines lights into the dingy corners. He holds forth on politics, religion, death, humour, institutions, education, sex, income disparity, terrorism, and love, but brings everything back full-circle the writer and the substance of story.
This April, Robert McKee will teach his STORY Seminar from April 3-6, and his GENRE Seminar from April 9-13. STORY is the famous seminar on which McKee's bestselling book—Story: Substance, Structure, Style, and the Principles of Screenwriting—is based. GENRE Festival makes the lessons specific by exploring Thrillers and Crime Stories (Apr.9), Comedies (Apr.10), Love Stories (Apr.11), Action Stories (Apr.12), and television (Apr.13). Screen, stage, and page writers will benefit immensely from either seminar.
Mr. McKee is intermittently for interviews about story, film, television, theatre, and culture. Contact Robin Carey at 928.204.2323 or Robin(at)Storylogue(dot)com