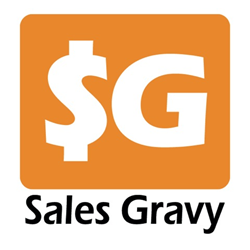 'Sadly, far too many hiring managers ask poor interview questions that ultimately lead to bad hiring decisions.' - Jeb Blount, CEO of Sales Gravy
Augusta, GA (PRWEB) March 25, 2014
Sales Gravy, the global leader in sales recruiting, sales onboarding, and sales training, announced that it has released "Sales Gravy's Guide to Better Sales Interview Questions". This in-depth 34 page eBook guides hiring managers, step-by step, through the complex sales interview process. It offers more than 120 strategic interview questions that allow interviewers to uncover the candidate's knowledge and experience, sales competencies (activity, sales process, and people savvy), and cultural fit.
"Better sales hiring begins with a better sales interview process," says bestselling author, Jeb Blount who wrote the guide. "Sadly, far too many hiring managers ask poor interview questions that ultimately lead to bad hiring decisions."
Blount, a leading expert on emotional intelligence and human behavior in the workplace, says that the key to building high-performance sales teams it recruiting, hiring, and retaining top talent.
In addition to learning how to avoid some of the biggest mistakes made in sales interviews, hiring managers also learn the importance of setting the right tone for the interview, engaging the candidate, and listening deeply.
Sales Gravy is offering its "Guide to Better Sales Interview Questions" free to sales leaders, hiring managers, business owners, and HR professionals for a limited time only.
About Sales Gravy: SalesGravy.com helps employers Find Better Salespeople Fast™. Sales Gravy boasts the world's largest sales talent community and attracts a rich audience of college educated B2B sales professionals and sales leaders. To learn more about how Sales Gravy can help your company source, recruit and hire better salespeople, please visit http://www.salesgravy.com or call 706-664-0810 x108.