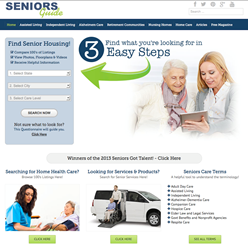 We wanted to show all the variances in pricing, as well as what amenities are included with that cost
Raleigh, North Carolina (PRWEB) March 26, 2014
As part of their ongoing Cost of Assisted Living study series, Seniors Guide has examined how much seniors can expect to pay for assisted living and long term care in Raleigh-Durham-Chapel Hill, as well as in Burlington, Cary and Johnston County areas of North Carolina.
"We wanted to show all the variances in pricing, as well as what amenities are included with that cost," says Katharine Ross, Vice President of Sales & Marketing for Seniors Guide.
"While there may be an initial sticker shock when compared to someone's standard rent or mortgage, those looking for assisted living may find they are able to save money by moving into a community with utilities and more included in that monthly cost," says Ross.
Pricing for retirement communities in the Raleigh-Durham-Chapel Hill areas of North Carolina were compiled by Seniors Guide through phone calls to local communities along with figures from Genworth Financial's 2013 study, "The Cost of Long Term Care".
Many utilities and amenities are included with the monthly cost of living at an assisted living community, Seniors Guide found. Laundry Services, Cable TV, Meals, Housekeeping and even some active group excursions can all be included within the monthly price.
"We encourage everyone to ask what is included, as each community may differ," says Ross.
In addition to reviewing the costs of assisted living and long term care in North Carolina, Seniors Guide has also published reports on assisted living in Richmond, Virginia and plans on releasing their report on Indianapolis, Indiana; Dayton, Ohio; Cincinnati, Ohio; and the Southwest Virginia area which includes Roanoke, Lynchburg, Danville, Martinsville and Shenandoah Valley areas of Virginia.
Seniors Guide's reports on the cost of assisted living will be released on their website, http://www.SeniorsGuideOnline.com, every Tuesday in the months of March and April, 2014.
Seniors Guide, a Richmond, Va. -based company publishes Seniors Guide magazines throughout Cincinnati, Ohio; Dayton, Ohio; Indianapolis, Indiana; Raleigh-Durham, North Carolina; Richmond, Virginia; and Roanoke-Lynchburg, Virginia and features a correlating website of SeniorsGuideOnline.com. Seniors Guide's mission is to help seniors and their families find the information they need on options available in senior housing, senior care, assisted living, independent senior living, retirement communities and other retirement living needs. Seniors Guide also has resources at http://www.HomeCareChoice.com for Cincinnati, Ohio; Dayton, Ohio; Raleigh-Durham, North Carolina; and Richmond, VA. Ross Publishing, Seniors Guide's parent company, began in 1991 and has been publishing helpful, free publications and websites ever since.