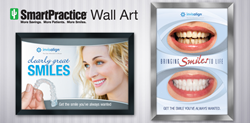 'Be strategic when decorating dental offices,' recommends Kristin Uhles, SmartPractice Director of Marketing. 'Beautiful Dental Wall Art and Dental Poster designs communicate how patients can economically transform their smile.'
Phoenix, Arizona (PRWEB) March 24, 2014
It is now easier for Dental practices to boost revenue by promoting cosmetic services with new Dental Wall Art designs advertising Teeth Whitening and Clear Braces. Dental Posters and Dental Office Wall Art that promote recognizable brands like invisalign®, Phillips Zoom! or similar brands create instant awareness of services available by leveraging wall space in treatment rooms, reception and hallways. Patients want a smile they can be proud of and need to know their dentist can make that a reality. Bright Dental Wall Art and High-end Dental Posters from SmartPractice feature dramatic images of picture-perfect smiles and showcase what practices can help patients achieve. Wall Art is economically priced so practices can change artwork panels frequently to support marketing campaigns and show patients something new with every visit. The most popular new Wall Art design, exclusively available from SmartPractice, features before and after photos of a smile brought to life by using Clear Braces by invisalign. Displaying Dental Wall Art and Posters is a subtle yet powerful way to advertise cosmetic services and encourage patients to begin the conversation about transforming their smiles.
"Be strategic when decorating dental offices," recommends Kristin Uhles, SmartPractice Director of Marketing. "If a practice's 2014 Marketing Plan includes increased treatment plans for Clear Braces, Whitening or other Cosmetic Dentistry Services, do not assume patients know these services are offered. Get the word out by educating patients right when they walk in the office with beautiful Dental Wall Art and Dental Poster designs that communicate how they can economically transform their smile."
Dental Office Wall Art is available unframed or framed with six stylish frame options. Designed and printed in the USA. View the new Wall Art designs at smartpractice.com/wallart or call 800.522.0800 for easy customizing including practice logo.
SmartPractice® is a family-owned company, passionate about our mission for Healthier Practices, Healthier Patients. Proudly serving dental professionals with patient communications, practice marketing, dental supplies, filing supplies and innovative exam glove solutions for more than 40 years. To learn more, visit smartpractice.com/dental or call 800.522.0800.