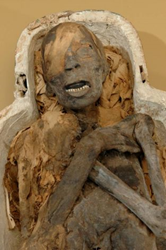 "Students are going to have a better education if they're going to take those basic principles and apply them in non-traditional situations." - Dr. Ron Beckett on using a video borescope during the mummy study.
Traverse City, Michigan (PRWEB) March 26, 2014
In 1893, the P.T. Barnum Museum was established, not as a circus-themed museum, but dedicated to American historical and scientific interests. Within the first decade of existence, The Barnum Museum received a mysterious 4,000-year-old mummy named Pa-Ib. The mummy has been one of the museum's best-drawing exhibits for over a hundred years.
Recently, new technology has given the scientific community, including anthropologists such as Dr. Ronald G. Beckett, new tools in discovering more about who Pa-Ib was, and what life might have been like during the time she lived.
In addition to being an anthropologist, Dr. Beckett is an explorer, professor, researcher, and endoscope enthusiast. In fact, Dr. Beckett can be credited with the phrase "anthropological endoscopy," which derives from the medical endoscope, a technology that paved the way for modern industrial video borescopes, or videoscopes. Dr. Beckett has explored all over the world, many of his explorations focusing on projects involving the paleoimaging of mummified remains using RF System Lab's video borescope. Investigating the life of the P.T. Barnum Museum's Pa-Ib is just one of these studies.
The oldest relic in the Barnum Museum, the Egyptian mummy, Pa-Ib, was recently examined using a Toshiba CT scanner and an RF System Lab video borescope by Quinnipiac University. Using this new technology, the professors at Quinnipiac, including Dr. Beckett and colleague Jerry Conlogue, examined the mummy and were able to narrow the age of the women at death, and determine that the object once thought to be the mummified remains of a bird was, instead, mummified organs of the deceased.
In addition, RF System Lab's video borescope enabled Dr. Beckett and his colleagues to take videos and photographs of the mummy's interior, which they were then able to present to a group of students on-site shadowing the study. "Students are going to have a better education if they're going to take those basic principles and apply them in non-traditional situations," remarked Dr. Beckett.
The mummy was donated to the Barnum Museum in 1896 by P.T. Barnum's second wife, Nancy Fish Barnum. The circus entrepreneur had contended the mummy was an Egyptian priest who served the pagan deity 2,500 years ago.
RF System Lab is extremely proud to know that their video borescope continually plays a role in Dr. Beckett's efforts to solve historical mysteries.
RF System Lab, creator of the VJ-Advance video borescope, is a worldwide leader in remote visual inspection and video borescope technology. In addition to the innovative use mentioned above, RF System Lab's video borescope is the perfect fit for a wide range of industrial and commercial applications. RF System Lab is so confident in the VJ-Advance that they offer a no-cost, no-obligation demo program. Sign up for your free demo unit today by contacting RF at (855) 787-6966, or at http://www.rfsystemlab.us.