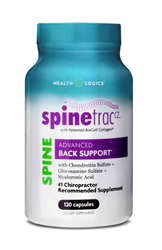 ChiroEco.com was voted #1 by doctors of chiropractic.
Anaheim, CA (PRWEB) March 26, 2014
Chiropractor Economics has chosen Health Logics' Spine Trac C2 as their featured product of the week! This incredible product contains patented BioCell Collagen, a clinically tested ingredient that has been shown to stimulate cartilage producing cells and help inhibit cartilage destroying enzymes.
Created by a chiropractor and now recognized by an online chiropractic community, Spine Trac C2 is truly a trusted product.
Chiropractic Economics is the longest-published magazine in the industry with over 60 years of experience. Trusted as a leader in the chiropractic community, Chiro Eco was voted the #1 most useful resource amongst an independent readership survey of doctors of chiropractic.
As a special offer, Health Logics will be offering a discount to chiropractors everywhere beginning today. Call 888.402.1600 ext. 302 or email us at info(at)health-logics(dot)com to redeem this offer.