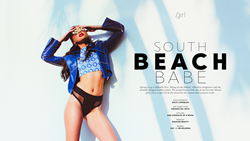 The supermodel era of athletic body styles and high-cut swimwear is back with modern fabrics and clean lines.
Miami Beach, FL (PRWEB) March 26, 2014
Slasher Girl founder and Creative Director, Amanda Del Duca, says: "Spring and festival season is upon us and this years' fashion is more sexy and sophisticated. The supermodel era of athletic body styles and high-cut swimwear is back with modern fabrics and clean lines. California-based swimwear line, Minimale Animale, burst on the scene last summer and has set the tone for a 90s resurgence in swimwear.
The booming Australian fashion scene also plays a big role this year's Spring Trends according to Amanda; "We will be seeing a lot of Australian super-brands like Maurie & Eve, Triangl, and Shakuhachi being introduced to the American market with their strong resort aesthetic and fresh design sensibility."
Slasher Girl spots these Spring style trends for the upcoming 2014 Festival season:
The one-piece - The season's must-have item. Many of the current styles feature low-cut backs and high cut hips reminiscent of the classic 90s style swimwear. A one-piece is a great way to add versatility to your festival look. The high-cut hips look great peeking out of a pair of vintage levis.
Sneakers - When Chanel shows sneakers on the runway, you know it's a trend that has legs. This season's shoe game is all about the bright and colorful sneakers. It's a comfortable option and customizable colors and features make choosing your pair a personal and charming experience.
Reflective Sunglasses - The reflective sunglasses trend is continuing strong this season. The trend has expanded past Ray Ban aviators and into almost any classic shape and style. Try on a pair, it's hard not to feel like a retro cool-kid.
The Rash Guard - It's not just for surfers. A stylish rash guard is a great way to protect yourself from the sun while still looking chic on vacation. This season has seen a resurgence of athletic styles and swim designers providing some great options for the sporty girl in the water and the stylish avoiding the sun's harmful rays.
The full look book can be found on SlasherGirl.com
Photographer: David Lundblad
Creative Director: Amanda Del Duca
Stylist: Ana Gonzalez of D'Moda Guide
Makeup Artist: Khadine Beauty
Hair: Prive Salon in SLS Miami Beach
Model: Gia via Wilhelmina
About Slasher Girl
Slasher Girl is an online retail boutique; Our clothing, accessories and objects are curated to inspire and empower women who are independent, creative and body confident.
Slasher Girl is an online magazine; We do intimate and inspirational interviews with passionate and successful women. We also produce a variety of content with the aim of contextualizing the products we carry on SlasherGirl.com
Slasher Girl stocks rare, one-of-a-kind items; Our creative director and lead buyer, leading Miami Fashion Blogger, Amanda Del Duca takes great care in sourcing new, fast-rising brands from around the world.
About Amanda Del Duca
Amanda Del Duca is a Miami based blogger, stylist and founder of online retailer, Slasher Girl.
Amanda began her career as a fashion writer in 2009 and soon started the popular Miami Fashion Blog,Capture Fashion. Amanda has collaborated with brands such as Linda Farrow, Stuart Weitzman, Forever21, We Are Handsome and Vita Coco.
Amanda was named one of Miami's Most Stylish in 2013 by StyleCaster and her personal style has been featured in New York Magazine, Marie Claire, Complex Magazine (online), ELLE Magazine, The Cut (online) and The Huffington Post (online).
Amanda also works locally as a personal and editorial wardrobe stylist. She is best known for her resort and swimwear styling with work featured in Galore Magazine, Terry Richardson's Diary, Maxim Magazine and FHM Spain.