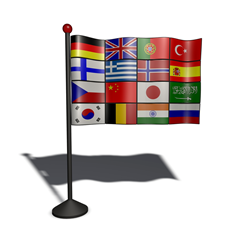 Your ideal candidate should offer a variety of services and have a "can do" attitude.
Fort Worth, TX (PRWEB) March 26, 2014
You are a growing business with customers, partners or employees who speak other languages, and now translation, even if once an afterthought, is a necessity. Using bilingual employees and distributors was once helpful; now it's become a problem. You need a professional service, but how do you find one? (Click here to get a copy of the full report).
Here are the 10 areas to explore in your decision-making process.
1. Experience
Locate a provider with at least five years of experience in this difficult industry and offers all of the languages you need now or will need in the future. Your ideal candidate should offer translation, editing and proofreading at the very least, as well as proper quality control. Ask for experience in your particular field (such as legal, life sciences, manufacturing, etc.).
2. Resources
The most valuable resource to each translation business is its translators. See what ethical standards are in place in order to keep the best resources (such as prompt payment practices) and what mechanisms are used for continuous education and professional growth.
3. Capacity
Will your translation provider be able to handle fluctuating volumes? If so, how? If you need fast turnarounds (24 hrs. or less), how will they be accommodated?
4. Tools
Savvy translation and localization services providers invest in CAT (Computer Assisted Translation) tools. These tools aid in achieving 100% consistency and save you money in the long run by reusing previously translated content without charging you full price for it again. If your translation provider does not offer these or is not willing to institute savings, it is not a good partner for you.
5. Consistency
A successful translation provider should have tools available that aid in maintaining consistency across all materials translated for you (see list in previous tip). The provider should also invest considerable time and effort into cooperating with you, the client, on determining the correct terminology to use.
6. Efficiency
A provider's efficiency should be measured by how it contributes to its clients' efficiency. What other aspects of your cooperation will make things easier for you?
7. Flexibility
Ideally, you should be given as much (or as little) control over the translation process as you wish. A provider should conform to your needs, not the other way around.
8. Quality assurance process
Unless you need a quick, "tell me what it says" translation, all translation products should undergo an extensive quality assurance process which, ideally, should be included in the price per word.
9. "Can Do" attitude
You should never hear what they "can't do" and always what they "can and will do".
10. Additional services
Mature translation service providers will offer a wide array of additional services such as multilingual desktop publishing, in-country verification, terminology management, alignment of previously translated documents, assistance with product naming for foreign markets, etc.
Teneo Linguistics Company, (or TLC) is a full service provider of foreign language translation services. You can find more information on who we are here.