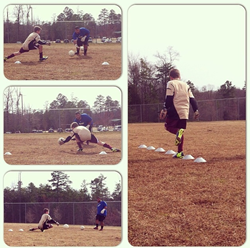 Footwork, technique and understanding the game in front of you can all be taught at B.A.S.E. Training.
Charlotte, NC (PRWEB) March 26, 2014
B.A.S.E. Training announced their Goalkeeper Academy in February and had come up with a plan on how to make goalkeepers in Charlotte, NC better all round. How B.A.S.E. Training kicked off their academy was this past Friday they held a discounted group session that was promised a month ago. "It was a big hit," says Coaches of B.A.S.E. Training. "We will definitely see growth through this program throughout this summer and for years to come."
Parents were very pleased with the training and not only plan to come to the next discounted training session, but want to start individual training immediately. "I can't thank you enough, he sooo needed this. He is absolutely elated," from one proud parent.
The goalkeeper is a specialized position and it needs attention. Not just in Charlotte, NC, but through the whole state and nation. The goalkeeper is the last defender, but he has the ability to use his hands. As such, he is part of the core, the backbone of the team. The best players must play in the middle, and the keeper is one of them. So goalkeepers need to think both as a player and as a keeper. It is a much more complex task than what the average field player has to accomplish. This was just one of the many discounted sessions that will come once a month. Sign up and do individual sessions to elevate ones game further. For more information about B.A.S.E. Training visit http://www.basetathletics.com.