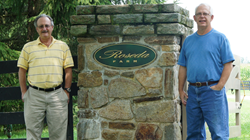 The best way to eat healthy is to eat as natural as possible, without any additives.
(PRWEB) March 25, 2014
As more food stores are cutting costs and selling prepackaged meats, rather than staffing butchers, Harvey's Market continues to strive for local, sustainable and healthier options. As a family owned business that's been serving Washington DC for more than 80 years, Harvey's treats customers like family.
"The best way to ensure that you are purchasing healthy meat without additives, is to buy from a butcher who knows exactly where the product came from," said George Lesznar and Marty Kaufman, owners of Harvey's Market. "A knowledgeable butcher will be able to tell you exactly where they get their meat, and what methods farmers used to raise it."
Harvey's offers cuts that have been long removed from most other stores, such as hanger steak, beef cheeks, whole briskets, pork cheeks, caul fat, lamb belly, fresh rabbit, pheasant and whole oxtail – just to name a few. By eliminating fresh cut meat altogether, grocery stores are further limiting the options of consumers.
"Harvey's is one of the only options in the DC area for consumers who are trying to shop for healthy, sustainable products," said Lesznar. "We are also the only local market that provides such a variety of specialty cuts."
Harvey's Market urges consumers to consider these tips when purchasing meat.

Much packaged meat is injected with a saline solution to keep it looking fresh. This creates a high concentration of sodium, which, according to the Mayo clinic, can increase the risk of heart disease. Purchasing fresh meat from a butcher is one way to avoid preservatives and additives.

Special leak proof, oxygen rich plastics ensure that the meat maintains a bright color, when it would otherwise turn brown. Even when the "sell by" date has passed, the meat will look fresh – but that doesn't mean it's safe to eat.When purchasing from a butcher, consumers can be certain they are getting what they see – truly fresh, naturally pink meat.

Purchasing freshly cut meat that's coming from local farms is more sustainable than purchasing packaged meat that's being shipped in from a plant. Food sold locally does not require additional energy for transportation and extra cost of materials.
About Harvey's Market
Located in the newly built Union Market in N.E. Washington, Harvey's Market, DC's healthy butcher shop, has been serving Washington DC since 1931. Only providing the highest quality cuts of meat, the market is a sustainable and healthy way to shop. Harvey's partners with nine local farms to bring high quality, sustainable cuts to Washington DC residents. For more information, visit http://www.harveysmarketdc.com or contact us at 202.544.0400 / info(at)harveysmarketdc(dot)com.