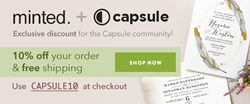 Los Angeles, CA (PRWEB) March 24, 2014
A partnership launched today between Capsule, the wedding photo app that collects all of your guests' photos, and Minted, the online marketplace for community-designed stationery.
Capsule and Minted are both companies largely based around weddings and special events, so the partnership came together naturally. Each company has helped to streamline the special event process with focus on high-quality products and community.
Minted is a stationery community made up of thousands of independent designers around the world. These designers create stationery exclusively for Minted, and Minted's community decides what they want sold on the site. Likewise, Capsule is very community-driven and takes pride in creating simple technologies that allow groups of people to aggregate and share their photos with one another from an event.
Capsule Co-Founder and CEO, Cyrus Farudi said, "The Minted community has helped us streamline the process of planning an event while embracing our couples' unique styles. We love giving them more choices." Capsule members can now order Minted stationery such as save-the-dates, invitations and thank you cards at a discounted rate.
Capsule is used to capture and preserve precious memories, which Minted appreciates, "We love the idea that our products will find their way into peoples most personal celebrations, and we don't take that honor lightly" says Minted.
Both companies are confident that their growing communities will be excited about this new partnership, and are happy to be offering an exclusive discount to all Capsule members for 10% Off and Free Shipping at Minted.com.
About Capsule
Capsule (http://www.trycapsule.com) is the easiest way to capture every photo taken at an event. CapsuleCam, the mobile app for iPhone and Android, lets guests instantly add photos to a shared album. Users can interact, comment, order prints, download high-resolution copies and share to social networks directly from the album.
For more information, visit tryCapsule.com or find us on Facebook (facebook.com/tryCapsule), Pinterest (pinterest.com/tryCapsule) or Twitter (twitter.com/tryCapsule)
About Minted:
Minted (http://www.minted.com) is a design community and e-commerce site, crowdsourcing graphic designs and content from a global design community and selling those as premium printed products focused on the $10 billion stationery market, the $48 billion wall art market, and the $7 billion party decor market. Investors include Benchmark Capital, Menlo Ventures, IDG Ventures SF, Yahoo! CEO Marissa Mayer, and Yelp CEO Jeremy Stoppelman.
All designs featured on Minted are crowd-sourced through design competitions and curated by the community. The company holds ongoing competitions, giving designers and artists the opportunity to submit their work. Those voted to the top are sold on the site. Designers earn cash prizes and commissions on all their sales.
Since its launch in 2008, Minted has radically transformed what consumers expect in holiday cards, party decor, art prints, wedding invitations, save the dates, birth announcements, business cards, and other personal stationery. Minted's fresh, unique designs have been featured on The Today Show and The Early Show, and in Real Simple, Town & Country, InStyle, Glamour, Food & Wine, and other major national magazines.