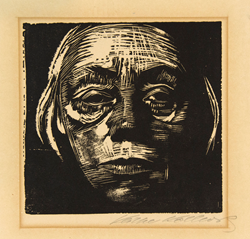 Claremont, CA (PRWEB) March 24, 2014
Scripps College professors Paul Buchholz and Anne Harley have organized a week-long series of campus events beginning March 24 to call attention to the work of Käthe Kollwitz, a 20th-century German Expressionist visual artist who became a world-renowned figure in the art world and peace movement.
A pacifist icon in Germany, Kollwitz's art examined the horrors endured by the victims of war and poverty, especially during the first half of the 20th century. Two museums in Germany are dedicated entirely to her works.
On March 26 at noon, Scripps will host the symposium, confused, nervous directions, which will focus on German Expressionism and the work of Kollwitz and will feature visiting Boston College professor Ralf Yusuf Gawlick, as well as Pomona and Scripps Colleges German studies professors Paul Buchholz, Marc Katz and Friedericke von Schwerin-High. This free event will be open to the public and held in the Hampton Room, 345 E. 9th St.
On March 27 at 7:30 p.m., the West Coast premiere of the song-cycle, Kollwitz-Konnex (...im Frieden seiner Hände), composed by Gawlick, will be performed by Harley and internationally renowned guitarist, Eliot Fisk. This free event will be open to the public and performed in Garrison Theater of the Scripps College Performing Arts Center, 231 E. 10th St. For more information, please call the music department at 909-607-3266.
At 5 p.m. on March 27, in collaboration with the performance and symposium, a pre-concert reception will be hosted by the Pomona College Museum of Art, which is presenting a free exhibition of 11 of Kollwitz's artworks through April 13. For more information, please call 909-621-8283.
In addition, visiting professors Gawlick and Fisk (New England Conservatory and the Salzburg Mozarteum) will meet with Scripps students throughout the week to speak about Kollwitz.
These events are co-sponsored by the Erma Taylor O'Brien Distinguished Visiting Professorship through the Scripps College Office of the Dean of Faculty, European Union Center of California, Scripps College Department of Art, Music and German Studies, Pomona German and Russian Studies, and Pomona College Museum of Art.
Scripps College was founded in 1926 by Ellen Browning Scripps, a pioneering philanthropist and influential figure in the worlds of education, publishing, and women's rights. Today, Scripps is a nationally top-ranked liberal arts college and women's college with approximately 950 students, and is a member of The Claremont Colleges in Southern California. The mission of Scripps College is to educate women to develop their intellects and talents through active participation in a community of scholars, so that as graduates they may contribute to society through public and private lives of leadership, service, integrity, and creativity.