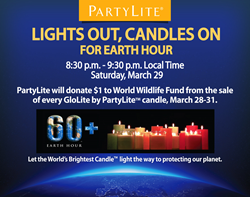 For every GloLite by PartyLite™ candle sold March 28-31, we're donating one dollar to the World Wildlife Fund.
Plymouth, MA (PRWEB) March 24, 2014
Lights out! Candles on! That's the idea for "Earth Hour" on Saturday night, March 29, at 8:30 p.m. Wherever you are.
"It's a fantastic concept," said Robert Goergen, Jr., President of PartyLite Worldwide. "People all over the globe will be turning out their lights for one hour, using their power to back a special cause. It's an amazing way to express our commitment to the planet."
As the world's largest party plan candle company, PartyLite strongly supports the Earth Hour concept, says Goergen. "We wanted to do something special," he said. "So for every GloLite by PartyLite™ candle sold March 28-31, we're donating one dollar to the World Wildlife Fund."
Noting that PartyLite candles are sold in the United States and 20 other countries, Goergen said the donation to WWF is surely a most appropriate incentive to purchase GloLite by PartyLite candles, The World's Brightest Candle™.
"These fabulous candles, which are created using our own proprietary technology, look absolutely amazing in the dark," he said. "You light the wick and the entire candle glows from top to bottom. Both our GloLite Pillar Candles and GloLite Jar Candles make any darkened room look positively beautiful."
PartyLite invites candle lovers to post a photo of their Earth Hour candlelight on the PartyLite Facebook page, too. They want to hear about your Earth Hour experience. How many lights did you turn out? How many candles did you light up? Did you invite other people to share the hour with you? PartyLite will create a photo collage from all the photos they receive, and they plan to post some of the comments they receive as well.
"We've been encouraging people the world over to turn out the lights and light up candles for 41 years," said Goergen. "PartyLite is passionate about celebrations! And surely Earth Hour is a celebration of our planet that deserves support from us all."
About PartyLite
PartyLite is the world's #1 party plan company selling candles, candle holders, flameless fragrance and wax warmers as well as holiday and home décor in 21 countries through nearly 52,000 independent PartyLite business entrepreneurs. PartyLite ranks #31 in the Direct Selling News "Global 100 top revenue-generating direct selling companies." Based in Plymouth, Mass., PartyLite is a member of the Direct Selling Association and the Better Business Bureau. In 2014, PartyLite celebrates 41 years as the global leader in its category and 24 years as a member of the distinguished Blyth family of companies (NYSE:BTH). For more information, please visit http://www.partylite.com.